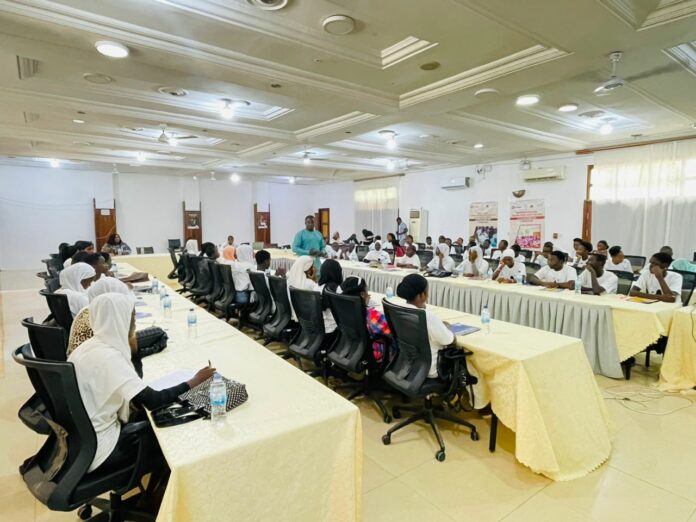 By: Dawda Baldeh
In their ongoing efforts to address the growing concerns faced by young people in the digital world, on Friday, September 15th, the Paradise Foundation conducted a comprehensive training session on digital safety for a significant number of students.
This training took place at a local hotel in Senegambia, and was implemented in collaboration with SHOAW and the Ministry of Basic and Secondary Education (MoBSE), with support from UNICEF.
The primary objective of this initiative is to empower participants with the knowledge and tools necessary to effectively recognize, respond to, and prevent technology-facilitated gender-based violence.
Aisha Baldeh, the Executive Director of the Paradise Foundation, emphasized the critical importance of this training and urged participants to share the knowledge they acquired with their peers, colleagues, and family members, among others, to promote digital safety.
She emphasized, "You must learn how to use the internet productively to avoid harming yourself or others. Once you share something on the internet, you have no control over it, so you must be discerning about what you choose to share."
Alieu Bah, the Program Manager of Stop Harassment and Online Abuse of Women & Girls (SHOAW), highlighted that the internet can be both a force for good and a source of harm. This underscores the need for everyone to be aware of the potential negative impact it can have.
He pointed out, "Content sharing is crucial, and individuals should critically analyze their content before sharing it. Many people use the internet without realizing that it can harm them, perhaps not immediately, but in the long run. Even though people have the right to share things online, they should also be responsible for mitigating harm."
Experts note that cyberbullying is the most prevalent form of online violence, encompassing activities like sending, posting, and sharing negative, harmful, false, or mean content about someone to cause embarrassment or humiliation.
Isatou Dea Sawaneh cautioned, "You need to exercise extreme caution in how you use the internet because whatever you post will remain there indefinitely. The things you share today may have a significant negative impact on you tomorrow."
Several other speakers encouraged the participants to make the most of this training, as some of them may hold presidential or high leadership positions in the future. Awa Saho, a representative from the Ministry of Basic and Secondary Education, commended the Paradise Foundation for their initiative and encouraged the participants to utilize the internet for educational purposes.
Ida Barrow, a participant, conveyed gratitude on behalf of her colleagues and expressed unwavering optimism that the training was both timely and beneficial. She urged her fellow attendees to leverage this training to protect themselves from cyberbullying effectively.