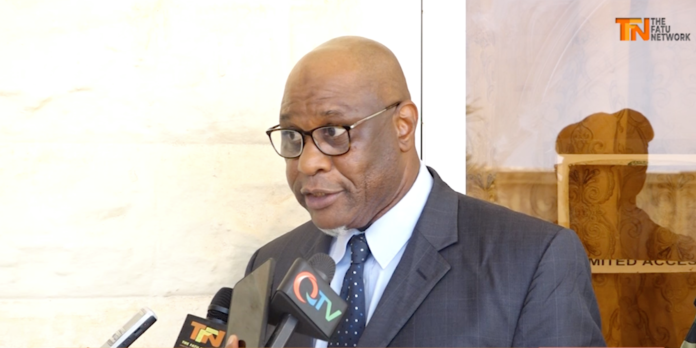 The Ministry of Defence has issued a statement saying comments made by the Minister of Defence Sheikh Omar Faye on Sunday on The For The People By The People Show were distorted.
The minister during the show said Gambians should forget what's happened in the 22 years rule of Jammeh and move on – comments that did not sit well with a lot of Gambians.
The ministry said: "The attention of the Ministry of Defence (MOD) was drawn to several social media comments about the remarks made by the Honourable Minister of Defence (Hon MOD), Ambassador Sheikh Omar Faye on the "For the People By the People" Show on the online platform of the Fatu Network on Sunday 4 April 2021. Among other issues discussed on this very important platform was the plight of the Victims of the 22 years of the Jammeh regime in The Gambia.
"The MOD wishes to state that the Honourable Minister's remarks were distorted by unscrupulous persons with the intention of maligning and discrediting Ambassador Sheikh Omar Faye and the efforts of the MOD in the reconciliation process. It is the expressed view of the MOD that the victims of the former President Jammeh's regime cut across all sectors of Gambian society and include several members of the Gambia Armed Forcces, an institution that is directly under the purview of the Honourable Minister of Defence. The MOD cherishes the role it is currently playing in the healing process in the country as it believes in being part of the solution to a healing and reconciling nation.
"It may be instructive, therefore to state that the MOD is working very closely with these victims, through the Victims Center and the Truth, Reconciliation and Reparations Commission (TRRC) in bringing closure to their plight through the healing, reconciliation and reparation process. Therefore, the Hon MOD wishes to reiterate his commitment to this national healing process and would like to also call on all well-meaning Gambians to rededicate themselves to this process and ultimately to the task of nation-building. It is important that we all avoid any discourse that has the tendency to underrate or negate the plight of so many Gambians who have suffered so much and for so long during the course of the last 22 years.
"Finally, the Honourable Minister of Defence Ambassador Sheikh Omar Faye wishes to, once again commiserate with the Victims Center and reassure all Gambians of his resolute and firm commitment to a One Gambia, One Nation and One People!!!"