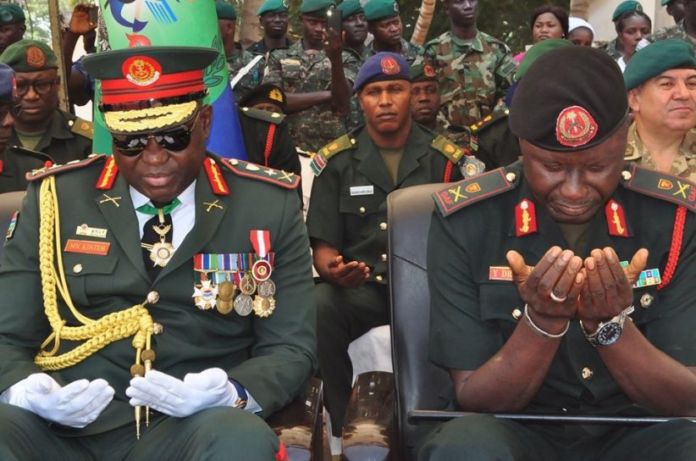 A defence analyst Sariang Marong has called on new army chief Yakuba Drammeh to reject Masanneh Kinteh's request for a nine-man secutity detail and two cars.
Mr Marong who has 19 years under his belt in the US navy made the call in an open letter.
He wrote:
Dear CDS Yankuba Drammeh,
Hope this note finds you well. I am writing to you in relation to former CDS Kinteh's request for logistics support. I implore your office to carefully review his request and deny it. CDS Kinteh has been in the news cycle during his tenure in office more than any CDS. Public outcry on CDS Kinteh's convoy on public roads was overwhelming. Since he was removed from the office granting his request in other words maintaining the car pool, 9 personnel security detail is nothing but insensitivity to public outcry.
How a profession views itself does much to shape its identity, and every military officers take pride in belonging to a profession centered on high ethical standards. This belief, inculcated upon entry and constantly reinforced, appears within the profession to be self-evident. Indeed, each service uses the term core values to describe ethical tenets that it regards as fundamental. The emphasis on values reflects an institutional understanding that it is a profession wherein the potential cost of making bad decision-making will be exponentially high.
The concept of integrity, defined as doing what is right both legally and morally, is enshrined in the professional ethics of military doctrine. Finally, approving former CDS Kinteh's request will set a bad precedent! Will the next CDS be accorded the same privilege? How about the former CDS's will they be granted the same privileges? What Kinteh needs a residual security detail to ensure his safety and that of his immediate family. The government should not pay for fuel, allotted him the number of vehicles just because he was a retired general. Let's cut down cost! CDS Kinteh does not need all those vehicles especially when the country is on lock down! The vehicles should be used for official business only since he no longer occupied the office of CDS those vehicles needs to be returned to the Army. Let's all be sensitive to public outcry when it comes to flamboyant lifestyle.
cc: Barrow Porg, Lamin K Sanyang, Ebrima Sillah, Amie Bojang-Sissoho.
Your Sincerely,
Sariang Marong