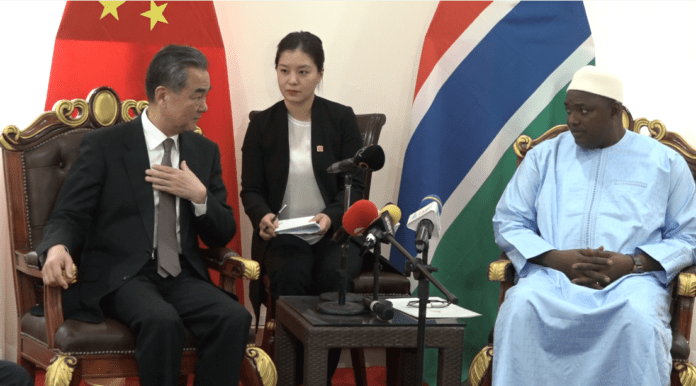 By Lamin Njie
President Adama Barrow has said that relations between The Gambia and China is growing from strength to strength.
The President stated this at State House on Saturday during a meeting with the State Councillor and Foreign Minister of China, Mr Wang Yi.
"I think this is the first time a foreign minister of China is visiting The Gambia. I think this has shown the commitment China has put into this relationship," Mr Barrow said.
China's top diplomat Mr Wang Yi arrived in The Gambia on Saturday for a two-day working visit. He first met with Mamadou Tangara, the Minister of Foreign Affairs, International Cooperation and Gambians Abroad before proceeding to the presidency.
President Barrow expressing appreciation over the top diplomat's visit said, "I will seize this opportunity to thank you and thank my brother, the President of China for the support you have given me in my new administration since we came to power two years ago."
"When I won the election in 2016, the Chinese ambassador was the first diplomat to come to my house to congratulate me. Since then you have given us support…," the President added.
The Gambia and China have entered into a number of development pacts in the past few years among them the multi-million dollars roads and bridges project that President Barrow recently commissioned in the Upper River Region.