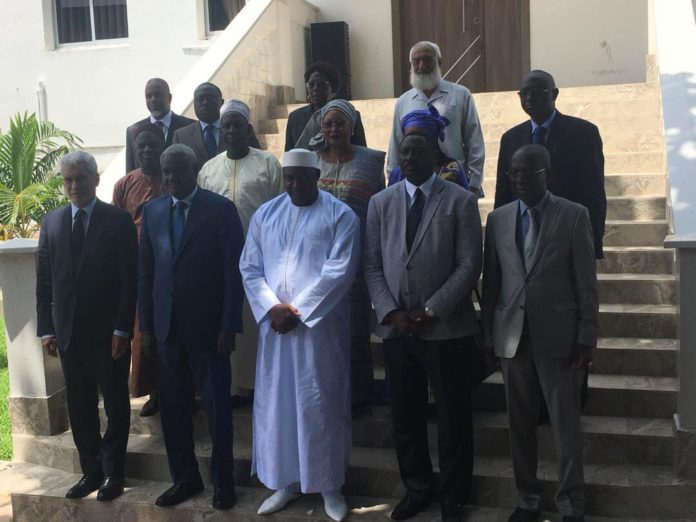 The President of The Gambia, President Barrow has called for support from the African Union and ECOWAS to keep the sub-region ECOMIG Forces until the end of the transition.
The forces comprising of soldiers from Senegal, Ghana and Nigeria were deployed to The Gambia after the 2016 Presidential Election, which saw the long time ruler Yahya Jammeh defeated.
Speaking at the State House in Banjul on Thursday afternoon during a meeting with African Union Chairperson, Moussa Faki Mahamat, Barrow said he was happy to receive the AU chair at his office. He recalled a meeting he had with Moussa Faki Mahamat in Addis Ababa where he was assured of the fullest support of the African Union.
Moussa Faki Mahamat, a Chadian arrived in the country on Wednesday for a day's official visit.
Barrow used the meeting to renew his call for AU to support his government to bring about the needed change in the country. President Barrow emphasized the importance of peace and security for the attainment of any meaningful development and integration.
"Without peace and stability, the integration we are talking about cannot be achieved."
For President Barrow, the time has come for Africa to integrate and for the West African nations; it has to start with ECOWAS if the countries are serious about coming together. He said Africa now has what it takes to succeed.
President Barrow added that his government will need support in maintaining the sub-regional forces until the end of the transition period which he says is in 2021. This he said, will help his government accomplish his security reform process.
He told the AU Chair that his government has also embarked on reforms in the judiciary and civil service and security.
"We need support in this transition period."
Mahamat's visit is part of his regular interactions with Heads of State and Governments of the AU member states.
Moussa Faki Mahamat commended Barrow for the ongoing reform proceses, while assuring of AU's support to The Gambia in this transitional phase.
Commenting on the disputes in Cameroon, he says the ultimate objective of the AU is to see peaceful and stable continent. He called for dialogue in ending the dispute.
Mahamat, who was earlier in Senegal, will visit Guinea Bissau to show AU's support and solidarity for their efforts to strengthen stability, as well as ensure the deepening of democracy and respect for human rights.