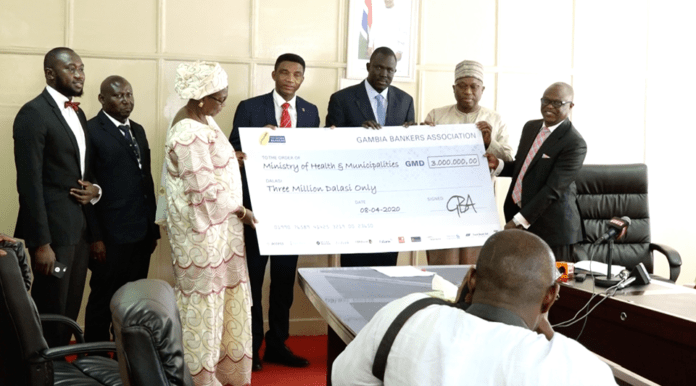 By Lamin Njie
The Gambia Bankers Association has given three million dalasis to the government as their contribution to the fight against COVID-19.
Officials of the asociation met Vice President Dr Isatou Touray at State House in Banjul where a check of the sum was delivered.
Ayo Kunle, a member of the association, said: "We want to appreciate the president for all the efforts he has taken and also for all the directives he has given to us as citizens working and living in The Gambia and want to thank the government for all that they are doing in keeping the land safe.
"As members of the private sector, particularly banks, we cannot but keep queit and see things going and not do something about it. And so we've have come together as an association to support and partner with government."
Vice President Dr Isatou Touray hailed the bankers association for the gesture while revealing the fight against coronavirus was a big one that comes with implications.
She said: "We want to say 'Thank you very much' for considering the whole country, you have been doing it and you have done it again.
"This support is just the beginning of many that we are expecting to see and we appreciate this great gesture
"It's a big fight that has health, socio-economic and political implications. There is no doubt that no any country or any government can do it alone. We are aware of that and we are ready to work with partners, institutions, with organisations to move towards fighting this serious diseases, this pandemic."