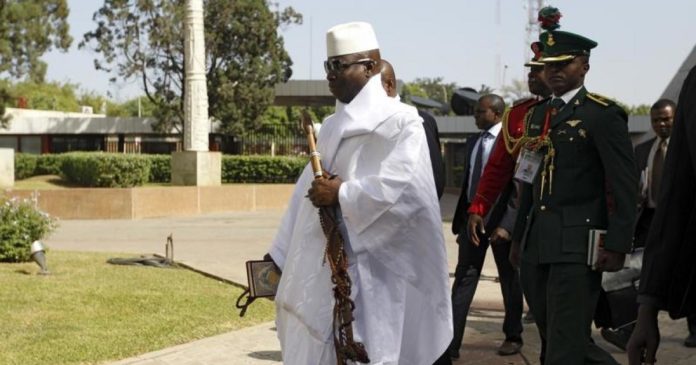 By Lamin Njie, in Bwiam
The interim leader of the opposition APRC Fabakary Tombong Jatta has called on the government of President Adama Barrow to let former president Yahya Jammeh return to The Gambia.
Mr Jatta made this call on Saturday as hundreds of party delegates gathered at Fatima Senior Secondary School in Bwiam, Foni Kansala for APRC's sixth national congress. The congress which will hold across three days will churn out a new leadership for the party for the next two years. It's the first of its kind since ex-president Jammeh left The Gambia for Equatorial Guinea in January 2017 following his shock electoral loss in the December 1, 2016 presidential election.
The party's interim leader Fabakary Tombong Jatta addressing delegates as he declared open the congress said "the involvement of national and international bodies made the peaceful departure of our party leader through self-exile to Equatorial Guinea."
"A joint declaration was negotiated with the government, Ecowas, AU, United Nations and representatives of President Jammeh and agreed upon. Therefore, we call on all parties to honour and respect the MOU. And we call on the government of President Adama Barrow for the unconditional return of the former president and to unfreeze and return to him all his assets," Mr Jatta said.
Mr Jatta also said the Barrow government has not stopped at freezing the ex-president's assets, it has also frozen assets that belong to the APRC.
He said: "We also call upon the coalition to return and unfreeze all APRC assets and bank accounts. And our APRC accounts don't belong to president Jammeh. They are accounts that I contribute to, all national assembly members contribute to, all the executive contribute, all party supporters contribute. We do our fundraising. It has nothing to do with President Jammeh."