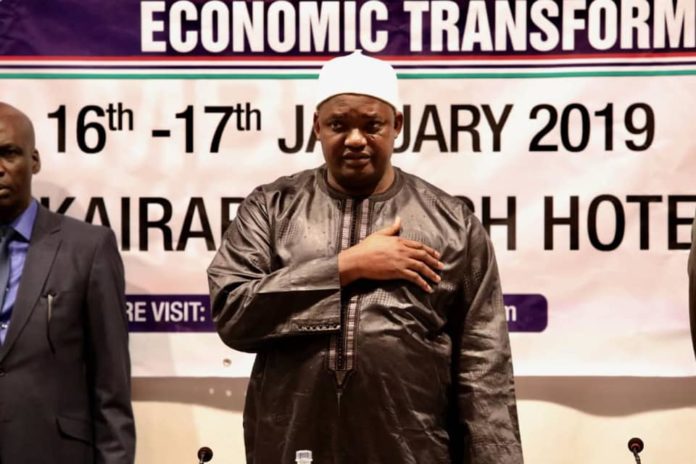 A plan of action purportedly by Operation Three Years Jotna has outlined steps the group intends to take to remove President Adama Barrow from power.
A plan of action called Operation Three Years Jotna Action Plan emerged online on Wednesday but The Fatu Network could not immediately establish its authenticity.
Below is the action plan;
Week 1 – beginning 2nd December 2019 – to be named week of AWOL
All government employees: teachers, police, fire service, immigration, civil servants, etc, with the exception of Doctors and Nurses, are encouraged to begin an Absent Without Leave (AWOL) from work.
The aim is to paralyse the government in Week 1. Family members and friends of such government employees are encouraged to prevail on their love ones to comply!!! Imams and church leaders are also encouraged to encourage the same in their sermons, as well as Gambians in Diaspora are encouraged to prevail on their love ones and friends to comply. They should be willing to support the affected family members or friends financially until the objectives of the struggle is successful!
Week 2 – beginning 9th December 2019 – to be named week of manifestation
The AWOL of government workers to continue but mass wearing of the operation 3 years Jotna T-shirts to begin at all public places! Market vendors encouraged to lead in the wearing of T – Shirts.
Week 3 – beginning 16th December 2019 – to be named Smoking the Nation
All actions in week 1 and 2 to continue but in addition, youths all over the country are encouraged to begin burning of tyres across the country: on the roads, streets and homes where convenient and safe!!!
Week 4 – beginning 23rd December 2019 – the Holy Week
All actions and activities to cease to observe Christmas Holy Day and New Year.
Week 5 – beginning 30th December 2019 to 3rd January 2020 – Holy Week 2
The cease fire on week 4 to continue
Week 6 – beginning 6th January 2020 – Smoking the Nation continues
The burning of tyres continues and all activities of week 1 and 2 to continue.
Week 7 – beginning 13th January 2020 – Blocking the Nation
Road blockades across the country plus all activities of week 1, 2 and 3 to continue.
Week 8 – beginning 20th January 2020 –
Occupation of the State House
Mass protests to begin from West Field Serrekunda to Banjul State House! Every citizen across the country invited to participate.
This occupation to be maintained until President Adama Barrow Steps Down honouring the 3 years mandate of the people!!!
The International Media is invited to cover all events and share it with the world!!