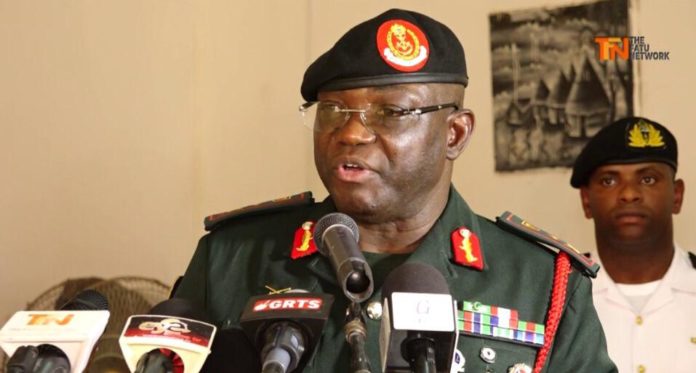 By Lamin Njie
Chief of Defense Staff Masanneh Kinteh went into a shocking tantrum on Tuesday after a QTV reporter asked him about soldiers who have been arrested.
At least six serving members of the Gambia Armed Forces have been arrested in recent weeks amid reports they abandoned their posts. Other reports said the soldiers were arrested in connection with a suspected plot against CDS Kinteh.
On Tuesday, the top general presided over the decoration of 25 newly promoted middle-ranking officers and went on to speak to journalists shortly after the event.
"Why did you ask that question," General Kinteh replied curtly when QTV reporter Babucarr Sey asked him about the arrested soldiers. He then started walking away as the journalist followed him and insisted on him answering the question.
"You want to know why they are arrested?" Kinteh asked back to which the reporter replied, 'yes'. The CDS then said: "I think the PRO addressed that issue. Have you spoken to the PRO?"
Responding, Sey told the CDS the PRO (Lamin K Sanyang) did address the issue but 'not to our satisfaction.' Sey contended that he was the CDS and he should be in a position to explain why the soldiers were arrested.
CDS Kinteh then said: "The investigations are going on and as soon as we get the details, we'll let you have it."
Babucarr Sey told The Fatu Network on Thursday he found CDS Kinteh's behaviour 'quite surprising.'
"The PRO spoke about it (arrest of the soldiers) some weeks ago but I was not really satisfied. So when I went to this decoration, I thought it's good to hear from the horse's mouth as the man in charge of the army," Sey said.
He added: "We had an interview contract. I wanted to ask him about the graduation, how he would justify the decoration of soldiers. He said we should stick to that; that we should not go beyond that and that kept me wondering why he would want us to stick to just that."