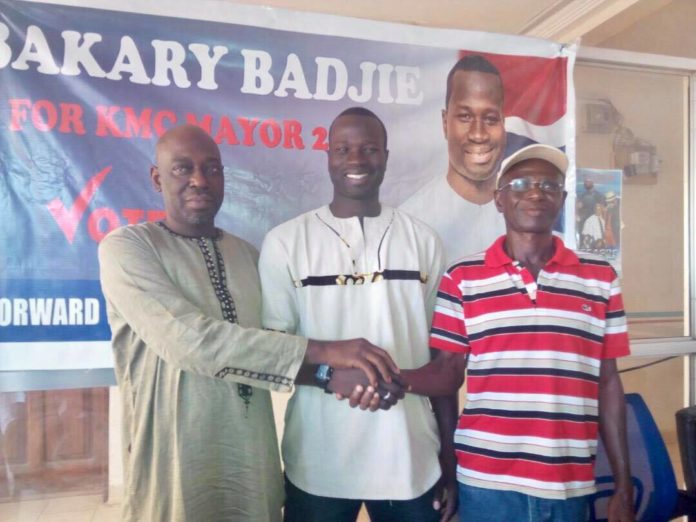 By Fatou Sowe
Two independent candidates in the mayoral contest for the Kanifing Municipal Council have joined alliance with team Bakary Badjie as the race within the municipality becomes tighter.
The candidates namely Sheikh Omar Saho and Momodou Jaiteh have both said at a press conference held at Badjie's office at Kanifing that they have similar if not the same vision for the Kanifing Municipality which matches Badjie's.
According to Saho there is no condition attached to the alliance rather he joined hands with Badjie to bring about effective change in the municipality as outlined in their manifesto and to as well change the norm of using the council as a political bureau.
Similarly Jaiteh expressed similar reasons for joining the "Team Bakary" campaign and further said that Bakary is a young man with a very clear vision for KMC which was similar to his manifesto so he supported Bakary based on ideology and with no condition attached.
For Badjie in his reaction to the move made by Saho and Jaiteh, said the alliance has and will add value to his campaign because his support base would increase significantly as the supporters of these two people will add on to his supporters which will eventual consolidate his victory in the race.
Dr Sidat Yaffa an associate professor of agronomy and acting director of the University of The Gambia Farafenni Campus was also in attendance and pledged to support Badjie in the race and ensure his victory come May, 12, 2018.
Dr. Yaffa said he was active in the formation of the coalition that ousted the former president but did not support any of the parties in the KMC because he believes in "Team Bakary".
" I went through Badjie's manifesto and I know for a fact that his vision for KM is clear, this is a  political revolution". He concluded.