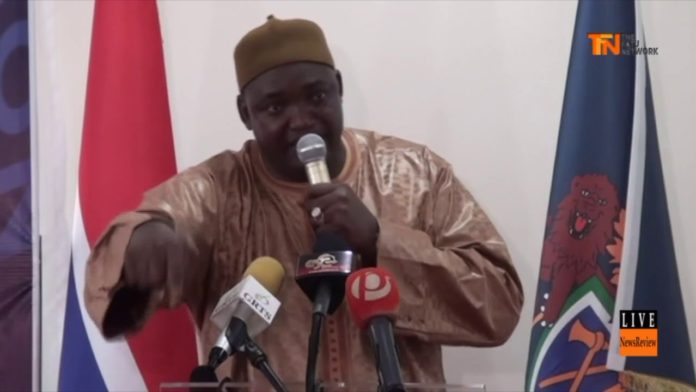 "Yesterday, everyone was scared, saying Jammeh had power.
Well, I wanna tell you that I have more today than Jammeh ever had.
People were scared of Jammeh because he had soldiers, police and SIS… but me, I have police, soldiers, SIS and ECOMIG… all at my disposal…"
By now, most Gambians have heard, or heard of, President Adama Barrow's infamous speech in which he compared himself to exiled former president, Yaya Jammeh. I must admit that i was more amused by the apparent surprise by many Gambians, than I was by Barrow's words. Having watched him over the past two years, it was clear that Barrow in awe of Jammeh. Despite the attempts to demonize Jammeh, Barrow courted Jammeh's former loyalists, hiring his former ministers, his former chief of protocol, and of course, enjoying the company of master sycophant, The Spineless Seedy Serpent Njie. It was obvious Jammeh was Adama's role model. Many of us were just wondering how long it would take him to publicly declare his admiration. And so it came, sooner than later.
Prior to this speech, Barrow's most famous speech was the "Where Were You?" speech, in which he was crying because Dr. Ismaila Ceesay, a lecturer at the University of The Gambia, said that he (Barrow) lacked the intellectual pedigree to lead the country. The President was deeply hurt by those remarks, and many Gambians sympathized with him enough to chastise Dr. Ceesay. Well, in this most recent speech, Barrow has vindicated Dr. Ceesay by proving that he is indeed 98 Bututs short of a Dalasi. That makes it our duty, as Gambians, to at least try and save him from his ignorance.
There are a number of similarities between Barrow and Jammeh. According to their official Birth Certificates, they were both born in 1965 and they both lived at State House and served as President, and consequently, Commander in Chief of the armed and security forces. That's easy for anyone, including Barrow, to see. What is a bit trickier to see, is the stark differences between Barrow and Jammeh. That requires some level of "intellectual pedigree" (not to be confused with academic certificates) that Dr. Ceesay referenced.
Intelligence – No doubt, he was evil, but Yaya Jammeh was extremely smart. By all accounts from those who knew him when he was younger, dude was always curious and nosey about anything and everything. This led him to study various political and military icons. When he became President, his words and actions demonstrated an acute awareness of both the Gambian society and global geopolitics. We hate him because he was evil, but it's difficult to argue that a dumb guy would be able to remain in power for 22 years. Barrow, on the other hand, does not know the difference between "72nd" and "72 seconds." Worse still, he seems to have no interest in finding out.
*Side Note to Jammeh supporters: Jammeh being smarter does not make him any better. He was pure evil and a total failure!
Rise To Power – Unlike Jammeh who took a gun and forced himself upon Gambians. Barrow, on the other hand, is an accidental presidentwho had the presidency handed to him. As Barrow himself has reminded us on numerous occasions, it took 3 months for people to convince him to accept the nomination to head the coalition. Yes, he now claims bravery and may be delusional to claim that he was the brave one to step up, but 7 political parties/groups came together to select and guide him, and hundreds of thousands of Gambians, home and abroad, contributed time, resources and energy to get him elected. Even after electing him, it took Gambians AND the International Community, to keep fighting for him to assume the office, all while he ran and hid in Senegal because he was scared of "The Lion", as he calls Jammeh. Yes, while Jammeh and his criminal gang took guns and marched into State House, Sheriff Tambedou had to fly to the Gambian Embassy in Dakar to swear Mr. Barrow into office, and ECOMIG had to escort him home…and even after all that, it took Barrow several months of cajoling, rituals and prayers, to gather the nerve to move into the State House
3. Time and People – The final difference Mr. Barrow would have been smart to realize is that these are different times, and he is dealing with Gambians of a different mindset than Jammeh dealt with. Jammeh found Gambians used to the at best, passive aggressive Sir Dawda Jawara. They had not suffered and did not know the score of living under a brutal, tyrannical, murderous regime. While the security forces did indeed serve Jammeh, today's army, police, and especially ECOMIG, now know better and are there to serve The Gambia, and no individual president. They have seen how Jammeh used and abused them, negotiated his exit only for himself and his family while leaving the Yankuba Badgies and Ousman Sonkos in limbo. More importantly, they have seen that the Gambian people now know that power truly lies in the hands of the people. They recognize that if young Gambians, in December 2016, defied the murderous Yaya Jammeh and his armed thugs, to kick him into exile all the way to Equatorial Guinea, the only Spanish-speaking African country, then it will take them very little to do the same, or worse, to a scared, toothless teddy bear, who is only at the State House because they placed him there. Gambians have been there before, have endured dictatorship, had enough of it, and decided that never again shall we accept it. See Faraba Banta, #OccupyWestfield, Social Security Strike, Doctors' Strike, Teachers' Strike and Talinding Upper Basic School Students' Strike for reference.
"Olof Njie neh, ku hamut sa borpa, nyo orla wakhla kinga dorn"
I will conclude by addressing President Barrow directly…"Your Accidency, Mr. President, you may admire him, but You Are No Yaya Jammeh. The only similarity I notice is the arrogance and the false sense of self-importance that you seem to have picked up of late. Unfortunately for you, it's not what kept your idol in power. To the contrary, it was one of the major smokescreens that blinded him, so he did not see what was coming when Gambians sucker punched him into exile in 2016! Jammeh lasted 22 years. Continue on this path and you'd be lucky to last more than 2+2 years!"