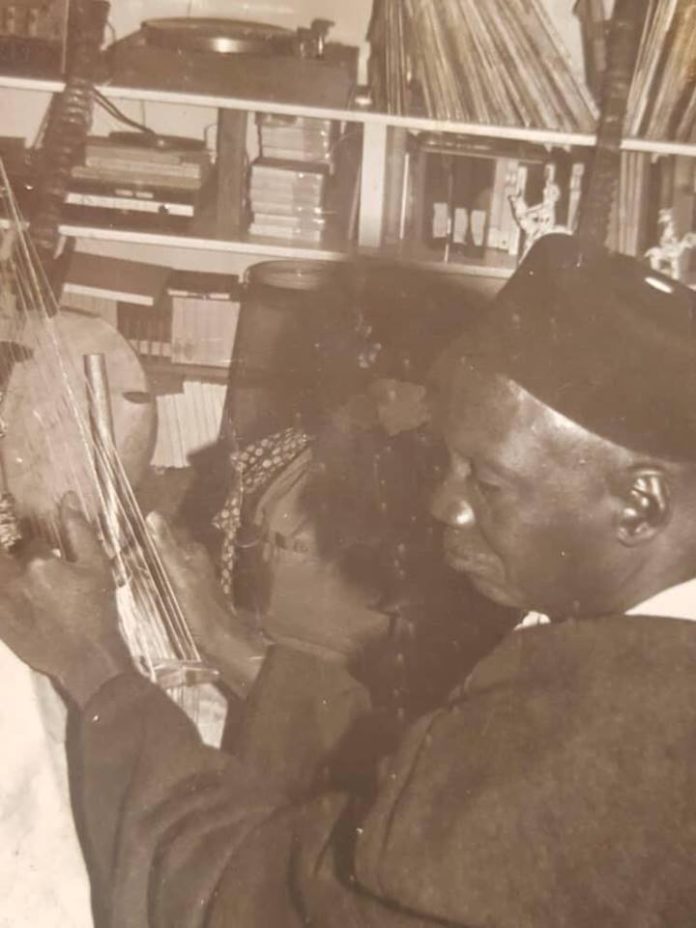 The great Jali Amadou "Bansang" Jobarteh was born before the first World War at Wuli Tambasansang in the Upper River Region, URR. He was the son of Jali Fili Jobarteh who originated from Mali. He is the grandfather of the Gambian international renown female Kora player, Sona Jobarteh.
He was also from the same father with the great grandfather of the famous Malian Singer, Sidike Diabate of the "Diabateba Music Production".
Jali Amadou "Bansang" Jobarteh was a great oral historian and kora player of his time. He was a contemporary of the legendaries Bai Conteh, Lalo Kebba Drammeh, Alagie Bamba Suso, Fabala Kanuteh and Banna Kanuteh but the latter were much younger than him. Some of his songs were "Jula Farso", " Jula Jere", "Kaira" "Lambango" but undoubtedly "Tutu Jani" was a hallmark.
He was briefly a member of The Gambia National Troupe and attended the second Manding Conference in London in the 1970s.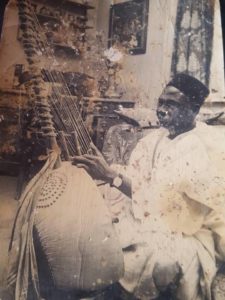 The great Jali had toured the world with WOMAD, an international art festival which is one of the biggest music industries in Europe, performing and sharing stages with world renowned artists while training students from Europe and America to play the Kora instrument at his house in Kembujeh. He also lectured for a year at the Washington University in Seattle, USA.
He received numerous Awards both local and international, including the WOMAD Festival's "Best International Artist" that attracted artists from several countries around the world. He traveled the world extensively to Spain, Canada, New Zealand, France, Germany, England and America amongst others.
Sidia Jatta, a renowned Gambian Parliamentarian who is a founding member of PDOIS Party has strong admiration for the great Jali referring to him as a "Library" out of respect for his firm knowledge of African history.
According to Alagie Pampo Jobarteh, one of his sons who said the prominent politician would sat beside his father on a mat talking oral history and playing Kora at their family home in Kembujeh.
Jali Amadou Bansang Jobarteh had a warmth and friendly relation with the former President Dawda Kairaba Jawara, the first President of the Republic of The Gambia. He was the personal griot of the former Chief Sanjally Bojang, one of the founders of the country's first ruling party PPP.
He was married to four women, Kumuna Sakiliba, Kachikaly Suso, Lanla Conteh and Nyima Cham with over seventeen children. His sons Sanjally Jobarteh, father of the famous Sona Jobarteh is a professional Kora player, Sankung Jobarteh is a good guitarist who played with the late Musa Ngum, Cheikh Lo and other bands while his youngest son Dawda is a very good kora player and singer in Denmark.
Jali Fili Jobarteh when he first came to the Gambia settled at Tambasansang where his dad (Amadou) was born before they moved to Sotuma Sere and then Touba Nding. The family later moved to Bansang after the demise of their father. Later, the famous Sidike Diabate's grandfather went back to Mali where he took a wife who gave birth to Tumani, the young Sidike's father.
Jali Amadou Bansang Jobarteh did not stay long in Bansang before he moved to Niumi Essau and later to Bakau under the then Chief of Bakau, Njagga. It was in Essau that he was given the nickname "Bansang" to distinguish him from others. He later moved to Gunjur, where he developed a strong tie of friendship with a famous merchant, Kalipha Bojang, father of Bai Bojang.
He had a farm at Nyofelleh to support his family but later went to broaden his knowledge of the Qur'an at Siffoe Kanteh Kunda. But eventually, he had to leave Siffoe after a heated political feud then his friend the late Sanjally Bojang who was a powerful political figure went to get him to stay with him in Kembujeh.
The Great Jali used to have students from Europe and America to learn the Kora from him at Kembujeh. He retired from Kora playing and singing before his death 2001. He was buried in Kembujeh.