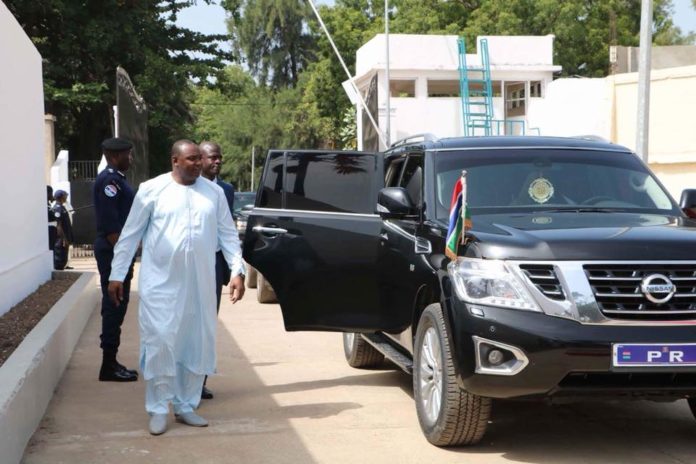 The President of The President Barrow Youth Movement for National Development, Ndey Fatima Jammeh has tendered her resignation to the movement Thursday afternoon.
In a letter addressed to executive members and advisers of the Movement, Ndey stated that she was chosen to lead the group on transparent basis, not on the promise that they will be loyal to each other.
"However spirits faded away because of few individual's personal interest which is not what we wanted" She added.
Below is a copy of her resignation letter.
Executive members and advisors of PBYND,
RESIGNATION
I hereby tender my resignation as the President, President Barrow Youth for National Development.
To set records straight, I was chosen to lead this group on a transparent basis and on the promise that we will loyal to each other. However, spirit faded away because of few individual's personal interest and that is not the agenda we wanted .
We as dynamic youths should work for the best interest of our dear motherland and put personal interest aside .
I wouldn't be part of anything that will be a threat or to jeopardise the peace and democracy of my Country.
It was indeed a pleasure working with all of you .
You are all intelligent and independent with mighty heart and brain.
I want to Thank each and everyone that stand by us in good and bad times .
Thank you all
Yours Sincerely
Ndey Fatima Jammeh
In another development, Lamin K. Saidy, adviser to the movement has also tendered his resignation.
Dear Madam President Resignation I write to tender my resignation as an adviser to the President Barrow Youth for National Development.
When I accepted this responsibility few months ago in the spirit of providing my little support to youth empowerment initiatives never has a day gone by which I regretted my past decision.
However, over the past months the nation is divided in opinion about the formation of such a group attributing it to politics. To many, it has the potential of undermining democratic principles on which our newfound democracy is built on.
Personally, I have not seen anything suggesting the above assumptions for now. However, as someone working with civil society, my conduct will have a direct bearing with the credibility of my organisation thus the need for my resignation.
This decision is personal but closely linked to my professional undertaking.
I appreciate the opportunity given to me and wish you all best of luck. I will always be a call away when needed. You all have my undying respect…
Sincerely yours,
Lamin K.Saidy