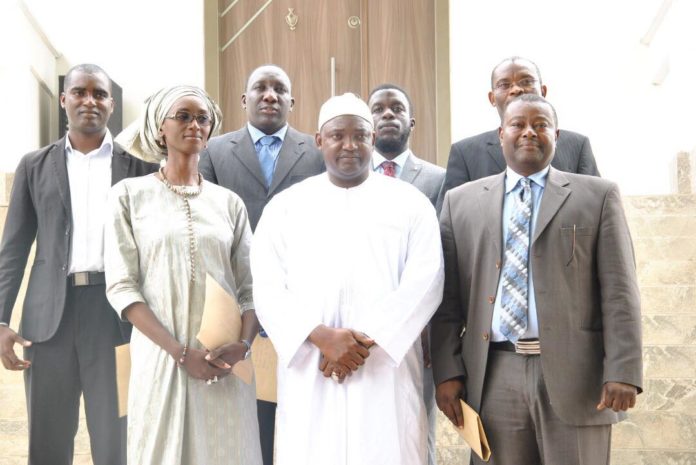 Adama Barrow, President of The Gambia has said that only the truth can free the people of Faraba Bantang from their troubles. President Barrow made the statement during the swearing in ceremony of the members of the Commission of Inquiry into the Faraba incident.
The Faraba Bantang incident emanated from a sand mining contract to a private individual that resulted to the death of 3 young villagers with several injuries including Police Intervention Unit (PIU) Officers and destruction of properties.
A Presidential Commission of Inquiry was sworn in Thursday morning to look into the matter headed by Chairman Emmanuel Joof, a renowned lawyer. Other members of the commission are Abdoulie Colley, Omar Cham, Lieutenant Yankuba Jallow, Neneh MC Cham and Charles Njie.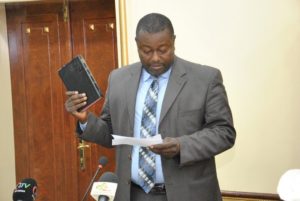 The Gambian leader in his keynote remarks explained that the investigations would help his government follow the right process to established the truth and thereafter make the right decision and a well informed course of action.
"I believed very strongly that its only the truth that can free the people of Faraba from their troubles and allow them to reconcile their differences as a community," President Barrow said.
"It is vital that those who commit human rights abuses and other crimes are brought to justice," he added.
Barrow urged the commission to get to the bottom of the event and submit an impartial report for peace and justice to prevail, noting that appropriate action would be taken so that such incidents do not recur in the country. He called on those affected to give the necessary support to the commission to enable it to undertake the sensitive task successfully.
"My government will stand firm for truth and justice," he concluded.
The Gambian leader said he trust the recommendations of the commission would be without prejudice against anybody.