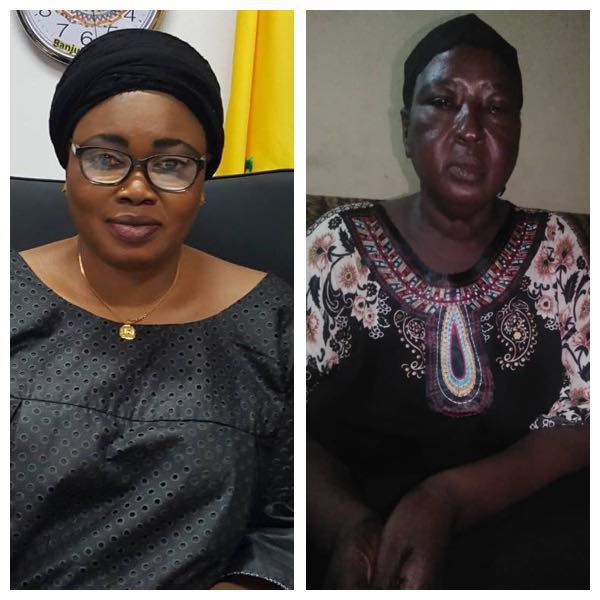 Mayoress of Banjul Rohey Malick Lowe on Monday visited Nogoi Njie, one of at least three women who took part in a fatal protest in 2015.
On 14 April 2015, some members of the United Democratic Party including Nogoi Njie held a protest in the Westfield area demanding changes to the electoral law. The protestors, led by the now-dead Solo Sandeng, were quickly rounded up after armed security personnel billeted on them.
Nogoi Njie has in various times since her release from custody in 2015 said she was held incommunicado and tortured. And in new audio message, Nogoi was heard pleading for help with regard to her poor health.
However, her pleads haven't gone unnoticed as Gambians have now taken to the social media to call on the government in general and the United Democratic Party in particular to come to Nogoi's aid.
Succed CK Saidy commented on Facebook: "[It's] a very sad encounter, but honestly Barrow and Darboe can't say that they aren't aware of these disasters on Nogoy and co. If some of the top government officials don't know but from the UDP know exactly what has and what happening to these people who sacrificed their lives, family and property for Gambians to enjoy democracy today."
Fadera Dembajang said: "Adama Barrow, how can you forget Nogoi Njie and others??? Lawyer Darboe and Fatoumatta Jawara, MP, Talinding, am crying your names out why, why and why? Call on all UDP fans to create go fund me let us help them to get their health back. Am disappointed and cannot believe [this]."
Cherno Jobe said: "I hope the government does everything possible to help her and all the victims or their families who currently need help."
Saikou Ceesay said: "Pls Mr President, help this Lady [go] for overseas treatment. If not, there will be no progressive [sic] for you and your Government."
Meanwhile, it has emerged on Monday that the mayoress of Banjul, Rohey Lowe, during her visit to Nogoi Njie at her residence in Mandinari gave the un-well woman an undisclosed amount of money to help her in her fight to get her health back.