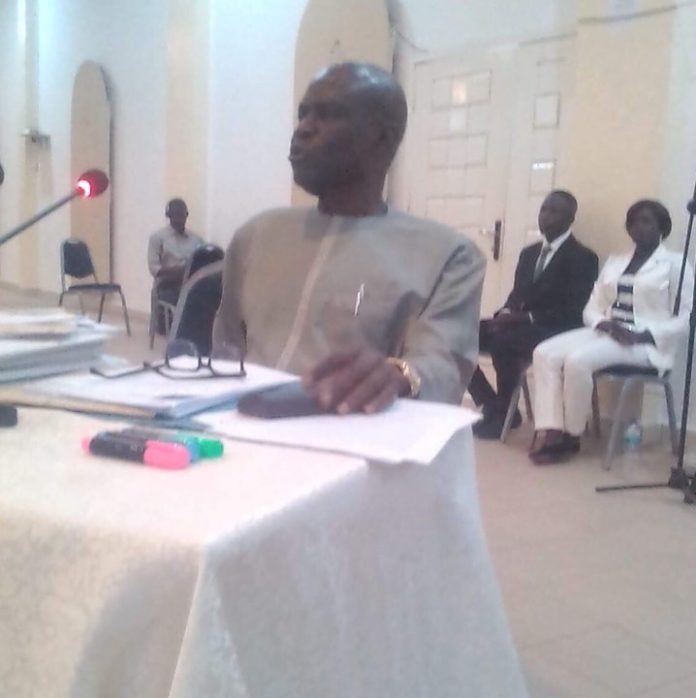 Business Tycoon Amadou Samba has described Mr Lang Conteh the former manager of foreign exchange at the Central Bank of The Gambia as 'a pathological liar' who is just busy running his mouth on issues he knows nothing about.
Samba made this description of Mr Conteh during the Thursday sitting of the commission of inquiry probing into the financial activities of former President Jammeh, after he was asked about his reaction to Conteh's allegation that he (Samba) was instructed by ex president Jammeh to takeover the management of Kairaba hotel after Jammeh purchased the hotel.
He challenged that if that was the case then there must be documents to that effect and that no such document exists. He said that he never dealt with Conteh on the transaction of Kairaba beach hotel as he was dealing directly with the late Baba Jobe.
He maintained that there was no occasion he sat to discuss with the ex president together with Baba Jobe and Lang Conteh about the Kairaba hotel issues.
"I have nothing to do with Lang Conteh but Baba Jobe and there was no occasion where I sat with Lang Conteh, Baba Jobe and the ex-President to discuss the issue of Kairaba Hotel. Mr. Baba Jobe appointed me as Chairman which was even symbolic and I have nothing to do with Kairaba except when Mr. Robert Aswandi contacted me on the sales of Kairaba," he said.
Further reacting to Conteh's allegations before the commission, Samba testified that the only encounter he had with Lang Conteh was when Conteh contacted him about the acquisition of Sun Swing Beach Hotel that he called to say to him that he was going to offer him (Samba) $3 Million but Samba said he just laughed.
He counter alleged he laughed because he knew that Conteh was going to take that money (3 Million) from the Central Bank of The Gambia CBG since he was the nerve centre of the bank who even at one time overshadowed the governor.
"I have never dealt with Lang Conteh when he was foreign exchange Manager," he added.
He disclosed "From the beginning, I knew that everything about the hotel was meant for ex-President Jammeh because after all, Baba was working for Yahya Jammeh and at the time Baba appointed me chairman of the board, he was the defector operator."
He added that considering his relationship with the late Baba Jobe, he couldn't reject his appointment as Chairman of the board of the Hotel.