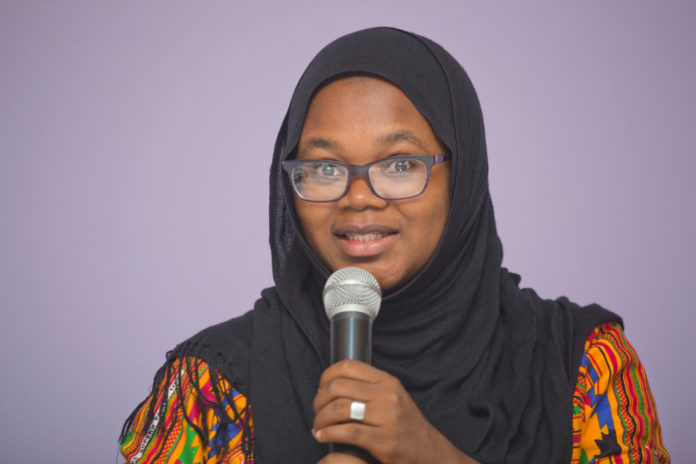 Her Majesty Queen Elizabeth II has today, Friday 13th April recognised Musu Bakoto Sawo, of Gambia as the 52nd Commonwealth Point of Light in honour of her exceptional voluntary service promoting women's empowerment and fighting to end Female Genital Mutilation.
In the lead-up to the Commonwealth Heads of Government Meeting in London on 19-20 April, Her Majesty The Queen – as Head of the Commonwealth – is thanking inspirational volunteers across the 53 Commonwealth nations for the difference they are making in their communities and beyond.
By sharing these stories of service, the Heads of Government meeting will celebrate inspirational acts of volunteering across the Commonwealth and help inspire others to make their own contribution to tackling some of the greatest social challenges of our time.
Musu Bakoto Sawo lends her expertise as a law lecturer to organisations advocating against FGM. In The Gambia, more than 75% of women and girls in the country have undergone FGM and Musu was also subjected to the practice as a young child. In 2015 she began tackling this issue by volunteering as the Programme Manager for 'Girl Generation', the largest global collective working to end FGM. Musu provides advocacy and support to the initiative's 700 members which are based across the ten countries in Africa most affected by the issue. She is also the National Coordinator for 'Think Young Women', a non-profit organisation which promotes women's rights. Musu draws on her experience of being married at the age of 14 to discuss child marriage.  Last year she was awarded the 'Vera Chirwa Human Rights' award for making an outstanding contribution to the protection and promotion of human rights in Africa.
Each Commonwealth Point of Light will receive a personalised certificate signed by Her Majesty The Queen as Head of the Commonwealth. The award for Musu Bakoto Sawo will be presented on 13 April 2018 at the British High Commissioner's residence in Cape Point, The Gambia by the High Commissioner, Sharon Wardle.

Musu Bakoto Sawo said: 
"I am very humbled and delighted to have been selected as a recipient of this award. When I started this journey, even as a child, my mission was to influence change in my community and the world. This remains my focus, especially for girls and women in The Gambia. This award encourages me to keep pushing hard to ensure sustainable results in respecting and fulfilling the rights of women and girls. I wake up every morning looking forward to changing someone's life for the better. I remain committed to ending the cycle of female genital mutilation and child marriage in my lifetime. I know this is possible because I have already started it. Grateful to the teams I work with at Think Young Women and The Girl Generation for the support and I look forward to more innovative transformations for girls and women. Thank you for this award."
Sharon Wardle, British High Commissioner to The Gambia said:
"Musu's dedication is an inspiration and truly deserving of this recognition. She is emblematic of a Gambian sisterhood that is resolute in the fight for women and girls empowerment.  Together with the continued support of role models in the Government including Vice-President Fatoumata Tambajang and Minister of Trade, Dr Isatou Touray, this is a fight that Gambian women can and will win."
The Commonwealth is a diverse community of 53 nations that work together to promote prosperity, democracy and peace. The Heads of Government meeting will bring together leaders from all the 53 Member countries to reaffirm common values, address shared global challenges and agree how to work to create a better future for all citizens, especially young people. Voluntary service is a vital part of this agenda, which is why Her Majesty The Queen has chosen to recognise outstanding volunteers across the Commonwealth in this special way.
– ENDS
For more information, please contact  Fatou Jassey, Press & Public Affairs Officer, British High Commission Banjul [email protected]
Notes to Editors:
ABOUT THE COMMONWEALTH POINT OF LIGHT AWARD
The Point of Light awards recognise outstanding volunteers every day of the week – people whose service is making a difference in their communities and whose story can inspire others to creative innovative solutions to social challenges in their own communities and beyond.
2. Points of Light began in America under President George H. W. Bush and today over 6,000 US Points of Light have been recognised. The scheme has the support of all living US Presidents.
3. Since 2014 the UK Prime Minister has been recognising a daily Point of Light from the UK, with almost 900 now recognised.
4. Commonwealth Points of Light is a continuation of this programme – with a special series of awards recognising inspirational volunteers throughout the Commonwealth in the lead-up to the Commonwealth Heads of Government Meeting in London in April. One volunteer will be recognised from each of the Commonwealth countries in the 53 week days preceding the Heads of Government meeting.
5. More information can be found on the website:www.pointsoflight.gov.uk
About the Commonwealth Heads of Government Meeting
In April 2018 the UK will host the Commonwealth Heads of Government Meeting, where leaders from across the Commonwealth will gather in London and Windsor. With the theme of 'Towards a Common Future' they will work to create a more prosperous, secure, sustainable and fair future for the Commonwealth's 2.4 billion citizens, particularly its young people.
For further information visit www.chogm2018.org.ukor follow on Twitter @commonwealth18.