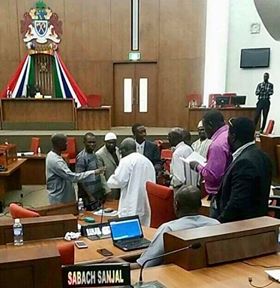 Honorable Halifa Sallah, the National Assembly Member for Serrekunda has clashed with Speaker Mariam Jack Denton who ordered him to leave the National Assembly.
"You are the one causing problems, get out," Speaker Mariam Jack Denton told Halifa Sallah.
"No, you get out," Halifa fired back. "Comport yourself because I respect you," he added.
The Speaker then called for the security at the National Assembly to escort Honorable Sallah out of the Legislative Chambers. The police officer went to where Halifa was seated to ask him to leave but was waved by Sallah to go and sit down instead. The officer kept standing not knowing what to do.
At this juncture, the majority of the members stood up to show solidarity with the member for Serrekunda, saying if he leaves they would go along with him.
The Speaker said the session would not proceed without her order being respected but almost many of the members disagreed with her decision.
Halifa later withdrew his remarks for the sake of national interest and asked that the sittings proceed.
The tension was triggered by statements made by the Minister of Finance after his efforts to present the Framework Agreement between The Gambia and China on the provision of concessional loan was rejected by members of the assembly.
Honorable Sallah pointed out that the Minister should first present the Concessional Loan Agreement so that members would know what the loan agreement entails. He was seconded by the member for Upper Saloum.
The majority of the National Assembly Members also supported the observations made by the member for Serrekunda, Halifa Sallah.
Meanwhile, the session later resumed after members had internal discussions among themselves.