By Omar Wally
The government of the Gambia should do everything possible to evacuate our Gambian brothers and sisters who are suffering in Libya said Dr Ismaila Ceesay, Political Science lecturer at The University of the Gambia.
"The government must engage Libyan authorities through African Union to make sure our brothers and sisters are sent home."
Dr Ceesay was speaking on Saturday, December 2, 2017, during a solidarity match for African migrants who are being sold and auctioned as slaves in Libya. The procession started at Palma Rima Junction and ended at The African Centre for Democracy and Human Rights Studies, along Bertil Harding Highway.
The protesters were carrying banners bearing slogans, "The enslavery, torture and killing of our people in Libya must stop! We are not slaves."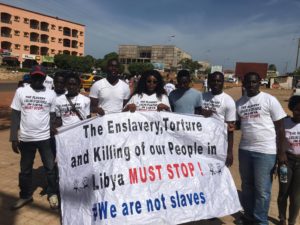 We are 17 years in to the 21st century, what we are seeing in Libya is really disheartening said Dr Ceesay.
He said they have seen the attempt by the government but the kind of action they want to see from Gambia government is to stop and condemn the slavery in the strongest terms.
"We want to show solidarity with our brothers and sisters who are being auctioned and to send a strong message to government that what is happening is unacceptable.
"Those behind the action should be punished through sanctions." He concluded.