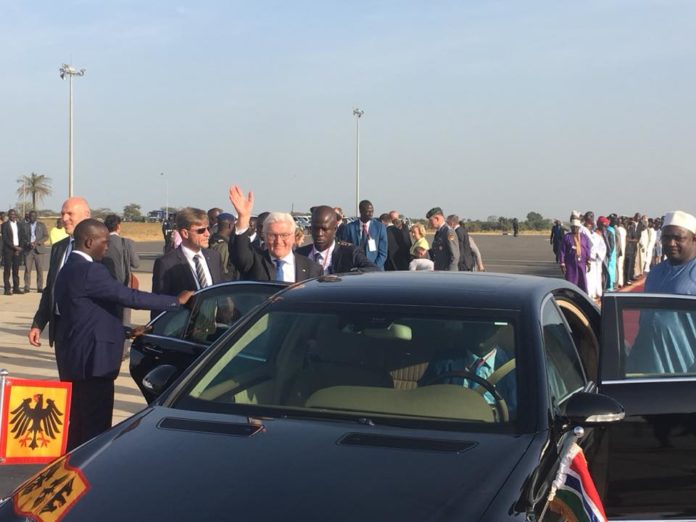 The President of the Federal Republic of Germany, Frank Walter Steinmeier has arrived in The Gambia for the first time for a two day visit.
President Steinmeier is the first European head of state to visit The Gambia since President Adama Barrow was elected into Office. He was received at the Banjul International Airport by President Barrow with senior government officials and foreign diplomats. He came with sixteen journalist from German to cover his visit.
Even though the purpose of the visit is not disclosed, it is anticipated that it will strengthen ties between the two countries.
President Steinmeier was elected into Office on the 12 February, 2017 and started his first five year term on March 19, 2017.
Germany has a parliamentary system of government in which the Chancellor is the leading political figure while the President has more than mere ceremonial role but gives direction to general political and societal debates. He represents the Federal Republic of Germany in matters of International law, signed treaties and accredit diplomats while all federal laws are signed by him before they can come into effect.
There are anticipations that the two heads of state will discuss on migration, foreign policies and sign treaties.
Meanwhile, the German president will held a press conference tomorrow before his departure.