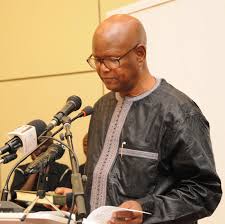 The Government of The Gambia has identified and eliminated potential 'ghost workers' from its payroll, recover wrongful salary payments and updated the personnel records of Civil Servants and Security Agencies among others.
The nationwide staff audit of civil service and security agencies which was conducted by the Personnel Management Office PMO in collaboration with IFMIS is said to have revealed series of payroll malpractices.
Speaking at a press conference Wednesday afternoon, Mr Demba Ali Jawo, Minister of Information said the exercise revealed series of payroll malpractices which includes a total number of 3,146 absentee employees.
"The total payments for absentee employee salaries amounts to D10, 445, 612 Millions per month and D125, 347, 346. 76 Millions yearly," Information Minister Jawo said.
The Information Minister quickly added that the payment of these salaries have been stopped since June 2017.
As part of the exercise, he said a total of D124, 612.8 have been recovered from employees who were seconded or transferred whose names still appeared on the payroll leaving a balance of D779,901.71 to be recovered.
Meanwhile, the Minister also spoke about the issuance of a TV License to Paradise FM among others.