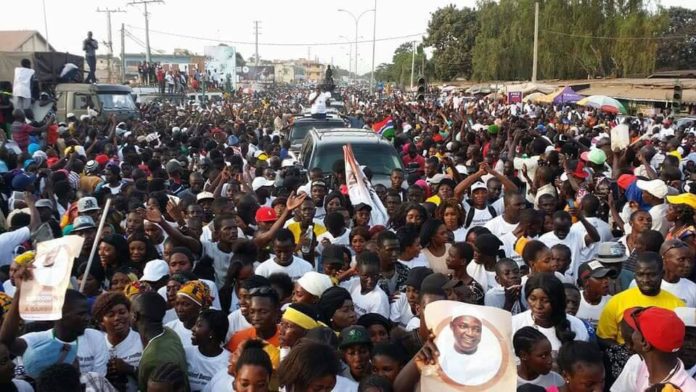 By Omar Wally
Tens of thousands of Gambians on Saturday, December 2, 2017, celebrated the downfall of former President Yahya Jammeh, who ruled the country for over 22 years.
On December 1, 2016, Gambians went to the polls to vote for their presidential candidate and on 2 December 2016, the Independent Electoral Commission declared Adama Barrow, coalition candidate as the winner.
The celebration held at the Buffer Zone brought together coalition leaders, cabinet ministers, wives of the President First Lady Fatou Bah and Lady Sarjo Mballow-Barrow, senior government officials, diplomats, regional governors, district chiefs, women groups and youth groups among others.
Upon arrival at the event, Barrow received a rousing welcome from the crowd; he waved and shook hands with supporters before taking his seat. A minute silence was observed for all those who lost their live during the Jammeh regime.
Addressing the gathering, President Barrow said December 2nd marks a significant day when great people of the Gambian came together and won a landmark victory against a brutal dictatorship, through a democratic process.
"One year ago, this nation took a stand and liberated itself from politics of fear, intimidation, division and embrace hope, diversity, respect for human dignity and the rule of law."
The change he said has been dramatic and decisive with the people of the country resolving never again to return to the dark days of mismanagement and unconstitutional rule.
"Because of our determination, we are witnessing the beginning of a new and unfolding democracy base on justice, freedom, equality and fraternity".
This glorious and victorious history did not just drop from the sky said President Barrow. "There are quite a number of courageous individuals, groups and partners both within the Gambia and abroad who contributed immensely to the success of a national struggle for democracy and good governance," he concluded.