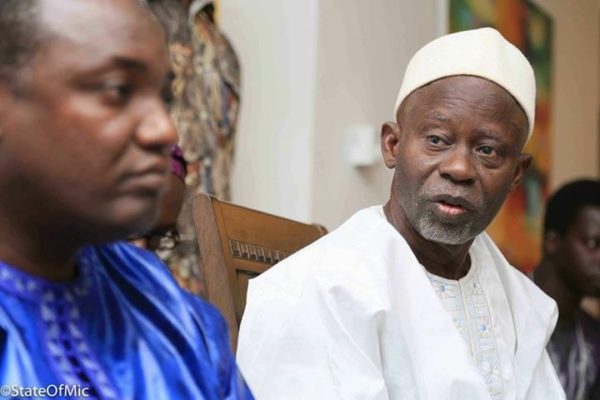 By Lamin Njie
UDP leader Ousainou Darboe has accused President Adama Barrow of trying to destroy his party.
Speaking to supporters from Central River Region at his house on Tuesday, Darboe who was sacked by President Barrow as the vice president of The Gambia last month said: "Adama said he wants to survive on UDP and UDP gave him his share, to do something for him that no other party did for any one in this country. Because it was UDP that sold him until these other parties accepted him and picked him at the convention. He then became the leader, he now wants to destroy that party just because he wants to stand in the next election.
"You (President Barrow) entered smartly in our midst as a termit would [enter a wood]. You're corrupting my chairmen, even national assembly members he went to them. But we are not bothered because those national assembly members were elected by their people. If Sanna Jawara wants to behave in a certain way, his people are there. If the election comes, they will sack him.
"I want you to know that yesterday they came and told you we are all the same. They would tell you, 'don't you see Amadou Sanneh is a minister and UDP.' They will tell you, 'Lawyer Darboe is the vice president and he is UDP.' 'Mariam Denton is the speaker she is UDP.' 'Momodou Sanneh is the deputy speaker he is UDP.' But I have told you anyone who comes to you and tell you they're UDP and that message didn't come directly from us, you should not listen to them.
"You see things are now clear. They are now saying that UDP is their enemey, that there is no other party here that is their enemy. For us UDP, we don't have enemies. We have rivals. I want you to know that we share maybe only two things with Adama Barrow and his people: being Gambian and being Muslim. We differ in terms of our politics. They are running their own politics, we are running our own politics. He will go for his annual leave and he will target you who are in the Fulladu area.
"They will form delegations to go to his place asking him to stand for elections. That's the plan. But what you should do what the Jarankas and Kingkas did. Please refuse to go to him. No one can force you. The era when people are bullied is gone. Do not allow any chief to come to you. In fact if any chief comes to you, send him away.
"What we fought yesterday is what Adama Barrow is trying to bring. I will not accuse him. I think Adama should be grateful to UDP. I didn't say it, he said it himself that he never vied for a position in UDP. That's the truth. That I Ousainou Darboe was the one who would call him and ask him man this position or that position. So now after that party gave you a noble position, you want to destroy that party."