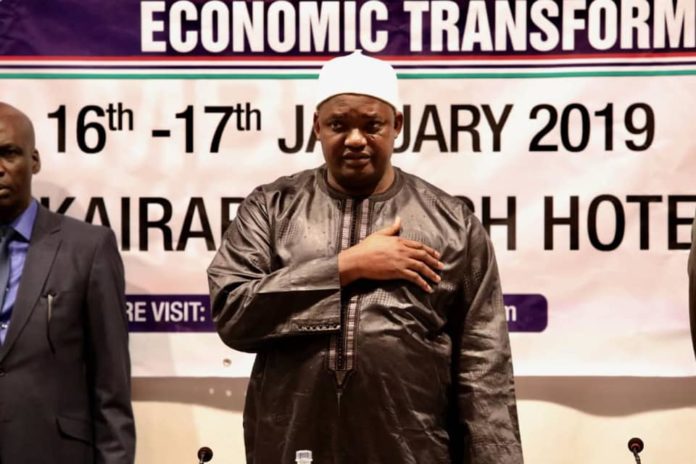 By Lamin Njie
President Adama Barrow has been harshly criticized for comparing former president Yahya Jammeh 22 years rule to South Africa's apartheid.
President Barrow had reportedly said in a GRTS exclusive that rainbow nation South Africa's apartheid is 'more painful' than Jammeh's two decades dictatorship. His comments have angered a section of Gambians among them some victims of Jammeh.
Germany-based Gambian Musa Bala Darboe in an open letter on Facebook on Monday said he was 'disgusted' that the President was playing their pains down.
"This is the highest of insensitivity. How much is painful to those who lost their family, friends and loved ones in the most brutal manners?," Darboe said.
Darboe who is married to the daughter of the murdered UDP youth leader Solo Sandeng said he forgives the President's 'ignorance' "but I must educate you on the cases you have compared our 22 years of brutality with."
He said: "Firstly, the apartheid in South Africa was racial problem. The colonial white occupation against the indigenous black Africans. However, both sides committed gross human rights violations.
"Secondly, the Sierra Leone war has experienced the involvement of all fractions in gross human rights violations. Just like South Africa, more than 50% of the population were taking part in the senselessness. In The Gambia, less than 1% of the population committed the brutality for damn 22years.
"Mr., no lost of life is more painful than the other. For you to say South Africa and Sierra Leone brutalities were more painful than ours shows how necessary your impeachment has became."
Plain-spoken US-based Gambian political commentator Coach-Pasamba Jow chipping in said "President Barrow has become a big disappointment."
"His actions have demonstratively shown a man who has become overly insensitive to plight of the victims of Jammeh's rule. If Barrow has his way, not a single perpetrator of these gross violations of rights will be held to account. Gambians must open their eyes to this travesty," Jow commented on Darboe's Facebook post.
Another Gambian, Citizen Jarju, said: "I listened to him and I can read the level of joy and satisfaction in him face, it shows you the guy has no damn care about victims. Left with him, all these commissions will stop. He doesn't care about them anymore. Truth and justice leads to reconciliation. This guy has no sympathy. He heard South Africa and apartheid but he has not read any literature about that conflict. He was just insulting the victims."