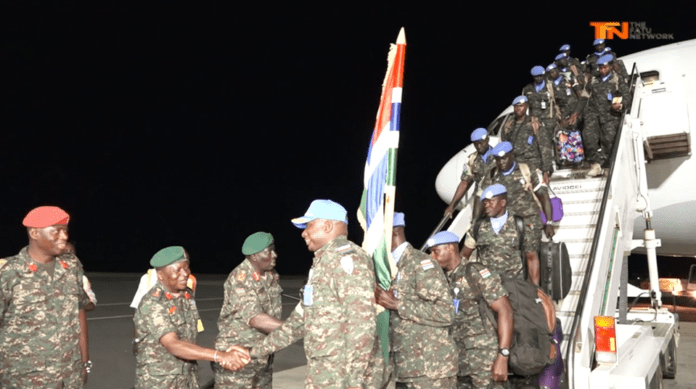 By Lamin Njie
At least 130 Gambian soldiers have returned to the country from a deployment to Darfur, Sudan.
The troops who were part of the Gamcoy 21 contingent returned to The Gambia on Tuesday after spending one year in Darfur.
They were received at the Banjul International Airport by the commander of the Gambia Armed Forces Brigadier General Mamat O Cham.
Addressing the troops at the airport, Gen Cham said the soldiers have represented their country well at one of the most troubled regions of the world.
The top general said: "On behalf of the chief of defence staff of the Gambia Armed Forces Lt Gen Masanneh Kinteh and on behalf of His Excellency the President and commander in chief of the Gambia Armed Forces and on behalf of the officers admin of the Gambia Armed Forces I happily welcome you back home after a successful one year mission in Darfur.
"Welcome home and thank you for a job well done. The report that we have so far is that you've done extremely well. You represented the country and the Gambia Armed Forces amicably well. You've done very well and you deserve a pat on your back and congratulations to every one of you."
Gamcoy 21 was commanded by Major Abdoulie Manneh who was assisted by Major Abdoulie Mboob.