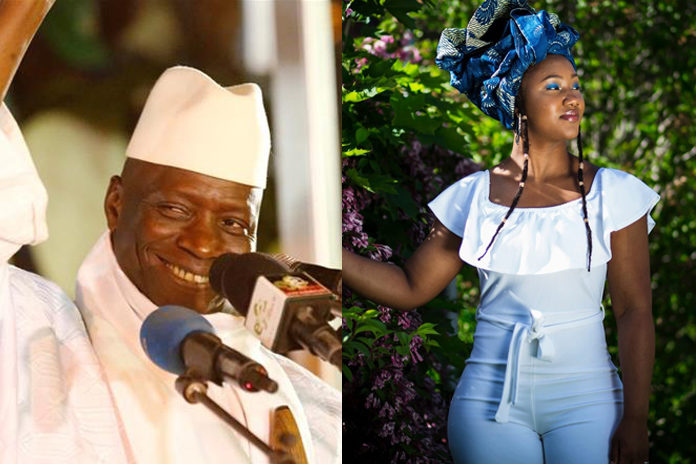 By Lamin Njie
Fatou Jallow said Friday former president Yahya Jammeh told her it was fun when she screamed that she was dying.
The 23-year-old beauty queen has stunned the nation by claiming Jammeh raped her. She told The New York Times in an exclusive interview that was published on Tuesday that the incident happened in 2015 at State House.
On Friday, Ms Jallow who is now based in Canada met with Gambian journalists, explaining in detail how the incident happened.
Ms Jalow explained: "A day before Ramadan, a night before Ramadan. Think about whatever Ramadan means to you. Jimbeh called me and said there will be a gamo, Quran recitation at the State House and I should come. This was around 6 in the evening.
"I said, 'okay, where are the other girls?' She said, 'oh they have already gone, you're late but a car will come and pick you up.' I said, 'fine.' I put on my dress, a free [flowing] dress, I put on my leggings underneath it and I put a scarf over my head. The driver came, Landing. [He] drove me. We got to Banjul. The first gate opened, the garden was filled with Oustasses and white gowns and women fully dressed ready to braced the month of Ramadan.
"And Jimbeh told me the president is coming to take a seat. So at this point, cars are not allowed to drive through, neither are people allowed to move around. So people had to stay back and move until the president takes his seat then you can come and have your seat as well. Then the drive drove into the second entrance, into the residence.
"I got off, walked up like four stairs. Jimbeh told me to sit inside and wait. [That] once the president is seated, I will go take my seat at the rest of the garden. I sat there with her. She went out and came back and said, ' let's move to the second room because there is a meeting that is coming to happen in this room.' We moved to the second room and she stayed for like 10 minutes and she said she was going to go in to get water.
"I was in this room by myself. As I was sitting there, the president walked into that same room – definitely not dressed ready to go for the gamo. He wasn't holding the Quran or the sword or whatever that thing is that he ever holds. He didn't have a hat on, neither his nyeti garang boob. It was his last piece under the haftan. And when he walked in this time around, it wasn't the Puel-jola joke, it wasn't the father figure joke.
"It was of anger and rage and frustration at the fact that maybe I had said no to him too many times. He said to me, 'who do you think you are?' That was the first thing he said to me. And for the past four years, I have been trying to answer that question: who do I think I am? And today, I am here speaking to him and to Gambians because I want to tell him who I am. That I am the survivor who have come back to haunt him and men like him. That's who I am.
"So I hope he hears that answer, that answer I never gave him on that night. He said to me that it would have been nicer if I had just said yes, [that he] would make sure I regret why I ever said no. [He] pulled me into a room, used every derogatory word that you can throw at a Gambian woman. I pleaded an I beg and I screamed and he told me not to scream because no one is gonna hear me. Because we could hear every word from the recitation from that room.
"And all those oustasses and imams were waiting for him to come out and grace their religious occasion. But he had to be himself inside first before he came out with the fake persona. I pleaded, I begged, I screamed. I said, 'I'm sorry' – a thousand times – 'do not do this.' I was fighting back and pulling my hands and pulling my feet, pushing him off. He will hold my dress and pull it back forward.
"The hardest part of my healing is that at some point I stopped fighting, that I gave in. I did give in. I stopped fighting, I did not fight back anymore and that has been a very hard part in my healing process. He did what he had to do. He put me on my stomach, my legs were dangling on the floor and when I screamed that I was dying, he said to me, 'no, it's fun.'"