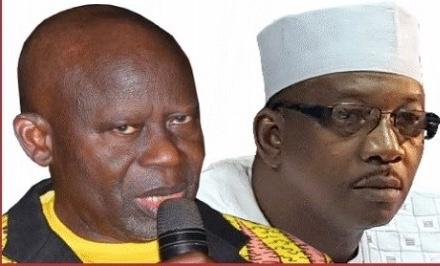 By Lamin Njie
United Democratic Party spokesperson Almamy Taal has said the Gambia Democratic Congress is a party comprising nobodies.
The national chairman of GDC at the weekend said his party doesn't want any UDP member including its leader Ousainou Darboe to lead The Gambia for even two days.
Dr Demba Sabally said because UDP is fraught with hypocrisy his party prefers President Adama Barrow to Vice President Ousainou Darboe.
The UDP spokersperson Almamy Taal reacting to Dr Sabally's comments told The Fatu Network: "They [comments] are ridiculous and they are complete rubbish and as a party we are not going to be responding to all kinds of rubbish coming from…
"Mamma Kandeh was the one against the coalition when we were going to election. Everybody was approached, he did not join the coalition. We are all familiar with the history of these people. These people have been playing that kind of politics where you say all kinds of rubbish and the journalists are very happy to put it out there.
"This is what has happened here. Mamma Kandeh refused to join the coalition. The coalition has won. The coalition was led by somebody from UDP now everybody is trying to gang up and saying things about UDP. Election after election, UDP has been winning. I just don't know why the journalists don't find the responsibility to tell these people but UDP has been winning elections after elections.
"If you claim that there is hypocrisy within UDP, what are you saying exactly? UDP is a united party. These one-man parties are no-man parties that people are giving time of day. They are nothing, quietl frankly. I just don't understand why the journalists are not looking at the facts and putting it before these people when talking this kind of rubbish.
"Who are these people representing, going around saying that there is hypocrisy between Almamy and his brother. How is that your business? It's not even true. Why don't you sort out your party? Your GDC, sort it out. Win elections so that people can see."