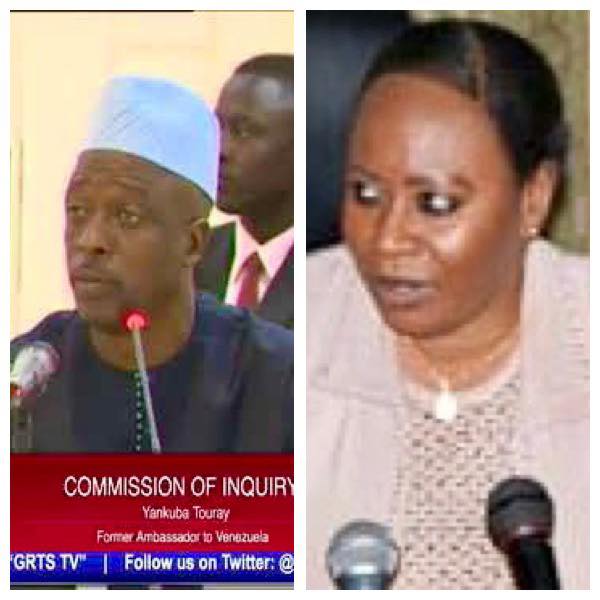 By Momodou Justice Darboe
Yankuba Touray and Fatoumatta Jahumpa-Ceesay earlier Wednesday had their case of interfering with a TRRC witness discontinued.
The former heavyweights of the APRC administration came into conflict with the laws of the land in February of this year when police accused them of interfering with a witness of the Gambia's Truth and Reconciliation Commission set up to probe the 22-year excesses of former president Yahya Jammeh. The duo was dragged to the courts on suspicion of attempting to influence a truth commission's witness whose name has been adversely mentioned in commission's hearings in connection to instances of brazen human rights violations that happened in Yundum Barracks three months after the July 1994 military takeover. Yankuba Touray and Fatoumatta Jahumpa-Ceesay were said to have engaged former Sgt. Alagie Kanyi in phone conversations in which they were alleged to have told the ex-army sergeant not to treat the truth commission with seriousness. Kanyi had admitted to particiapting in the gruesome killings of some soldiers and officers of the defunct Gambia National Army who were accused of involvement in a coup plot against the AFPRC junta in November of 1994.
The charges carry a penalty of up to three years in prison or a fine of 1 million or both.
But The Fatu Network understands Wednesday the state has withdrawn the case. Since at the outset, one of the weaknesses of the prosecution in proving guilt against the two lied in the fact that Alhagi Kanyi had earlier told a lower court in Kanifing that it was Touray and Madam Jahumpa-Ceesay who advised him not to mind the truth commission but he subsequently testified to the contrary when he informed the high court in Banjul that the duo had never sought to interfere with him or his testimony before the commission. The case was consequently dismissed on grounds of want of prosecution.
Yankuba Touray and Fatoumatta Jahumpa-Ceesay held various top positions in the government of former dictator Yaya Jammeh before falling out with him. Fatoumatta Jahumpa-Ceesay once served as the spokesperson for the former Gambian President before ascending to become a Speaker of the Gambia's legislature. She was also a member of the West Africa sub-regional parliament. Yankuba Touray also served as minister of local government and lands. He was also a one-time mobiliser of the APRC party.