By: Muhammed Lamin Drammeh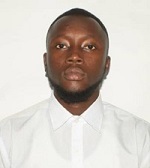 Known for his flair and appetite for writing, prolific young Gambian poet, Momodou Sey, commonly known by his moniker name as 𝐓𝐇𝐀-Wordscraft, is set to launch his maiden literary work 'The Scorpion', a collection of 30 poems centred on cross-cutting national issues including the new pattern of activism in the Gambia at the weekend as he moves into the realm of literary authorship – a voyage, which for the poet, aims at changing issues and turning wrongs into rights.
Over the years, the 23-year-old has crafted a name for himself as one of the most fascinating emerging young writers in the country with enticing, stylish writing. A poet, an essayist, and a budding literary scholar, SEY's aptitude in writing has garnered considerable attention.
A final-year English Language major at the University of The Gambia, the young poet is about to begin his authorship journey on the weekend, a path that is expected to be long trekked holding a pen with a vast potential to make an impact through writing.
MOMODOU SEY's INSPIRATION FOR WRITING!
Born on the 4th of January in 2000 in Albreda in the North Bank Region, Momodou Sey developed a contagious passion, appetite and knack for writing at a very tender age.
According to him, his dear mother instills the spirit in him to write as far back as in 4th grade.
"My mother instilled the courage in me to write as far back as in my Grade 4 where she was serving as the Women Club President of my village and most of their literary recordings were done by me.
"Another aspect of my inspiration for writing draws from the exposure I had as an Arts student in my senior school days and interacting with different literary materials. I developed a strong passion for writing, especially poetry. Again, this transcends to my university too, where I'm currently reading the English Language as my major," he explained to this medium.
Sey may have traced his steps into writing back to his grandfather. He hailed from a literary family. His grandfather, according to him, was a prolific and influential reviewer of Islamic texts who spent the greater part of his life preaching Islam through writing. He grew up watching his grandfather closely when propagating Islam through writing.
Momodou Sey has been writing ever since. In 2015, when he was at Kuntaya Basic Cycle School, he won the National Essayist championship of the Gambia Postal Service Company Upper Basic School competition.
ABOUT THE BOOK
The Scorpion is an anthology of 30 poems with a unique, fascinating and societal-related theme. According to the author, the book seeks to repel the minnow stance of the country's authorship role in the arena of literature. It is an embodiment of a symbolic configuration of the country's sociocultural descriptive to sting a reposting identity. The author, himself a social commentator, uses poetry to convey salient national issues. The book covers other thematic aspects including the theme of love, death, politics and the new pattern of activism in the country.
The book will be launched on the 27th of May at the Regional Educational Directorate 2 in Brikama.