By: Muhammed Lamin Drammeh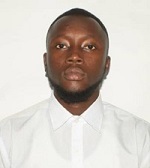 From helping a sister to write a story with a caption in her 6th grade to winning an award as 'the best female writer' in 2022, 21-year-old Fatoumatta Bayo, driven by passion and creativity, would have never thought, in her wildest dreams, that she would weather the storm and create a path for herself into the literary realm of writing and educating through words.
Arguably the finest playwright of her age category, she is about to publish her second book, just a year after publishing her debut book. As an exceptionally talented young dramatist in the country, her writing career has been on an upward trajectory.
Without any formal creative writing training and only powered by her insatiable passion for writing – stimulated by her knack for creative writing, Fatoumatta Bayo, at age 20, while going to Kotu Senior Secondary School as a student in 2022, published a magnum opus; a fascinating play captioned 'Sorrows of A Stepmother' shortly before starting her final examination in grade 12. This epic play would then give the young writer 'The Best Female Writer Award' at the Kunta Kinteh International Book Festival in 2022. With such a bright start to her literary journey, Fatoumatta Bayo is willing to share with the reader as she is set to launch her second book: 'My Husband's People'.
Fatoumatta is currently a first-year student at the University of The Gambia. To her, she was born to be a writer; thus, it is a calling that she must answer to.
"I was born to be a writer. I was never taught to write. Although, initially, I never knew I could be a writer. It was a particular day that one of my sisters brought me a title of a story and instructed me to write something about it. I was in grade six then. I grabbed a pencil and a piece of paper and began to write. Words started flowing like I was being told what to write. I felt happy, it was from that day to date I have been writing," the young author recalled how it all began for her.
Different people write for different reasons. However, to Fatoumatta, writing gives her joy regardless of any situation she is in. According to her, writing is her best friend.
Her maiden book is a play titled 'Sorrows of a Stepmother'. The play revolves around two polygamous families. It portrays the life of two young ladies who are married into a polygamous family. The play has loads of themes embedded in it, which include love, regret, sadness and punishment.
This was published in 2022, and it is a book that pave a bright path for her. With this book, she was awarded the 'best female writer' award at the 2022 Kunta Kinteh International Book Festival.
Hungry and thirsty to continue enlightening through writing, Fatoumatta has cooked another meal to be served, a thrilling play that centres around a young successful female doctor who, when courted by her husband, promised her that she will continue pursuing her career. However, things changed after she agreed to marry the man. What happened and how it happen? The answers are in her book: 'My Husband's People', another thrilling play that can propel the 21-year-old's literary career into another promising phase.
As typical of Gambian writers, Fatoumatta is faced with financial challenges in printing her books. She lamented the high costs of publishing and printing books in the country.
Her second book, which is also a play— 'My Husband's People' will be launched soon. She urges Gambians to buy her books since it portrays the everyday life of Gambians.