By: Muhammed Lamin Drammeh
Just less than two years since she started actively participating in sports photography, Sarjo Baldeh is set to be among a group of young women on the continent to cover the Africa Under 20 Cup of Nations in Egypt. She will be there as a photographer later this month. Likely to be the first female Gambian photographer to reach such a milestone if things go as planned later this month in Egypt, this young lady aspires to blaze a trail as she pursues her dreams of becoming a phenomenal photographer beyond the peripheries of the Gambia.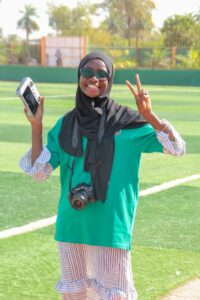 "I take photography as a gift from Allah. However, Photography is not easy in this country. It takes dedication, determination, and consistency to survive in it," says the 21-year-old female photojournalist who specializes in sports.
Sarjo Baldeh is a rare breed of a lady who has joined the booming industry of sports journalism in the country. For Sarjo, she does not use a pen or microphone to report, she uses cameras to report by capturing stunning images, a craft that she is excelling at just within 24 months when she decided to venture into sports photography.
Sarjo — who also studies construction — photography career started lighting up in 2015 when she was 15 years old and in 9th grade. She was lucky to be part of Starfish International, an organization that houses volunteers yearly from different countries. While attending the programme in the summer of 2015, Sarjo began taking pictures, a move that would fuel her burning desire for photography.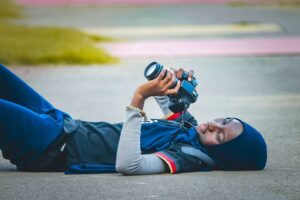 "After that session, I continued taking pictures and that has led me to where I am today. After 7 years now, I am more determined to be a life-changing photographer than before," she said.
Baldez, as commonly known in the photography space, has followed her passion by making a move to sports photography, where she takes stunning pictures that hooks photography lovers.
Being a young female photographer, she always stands unique in the midst of men doing her job. She does even mind being called a 'cameraman' despite being a lady, a manifestation of the belief that such craft is for men. Sarjo, however, defied the odds and evolved into a powerful photographer regardless of the perceived notion of the craft being designed for males.
Like every dreamer, Sarjo has gigantic dreams in football. She wants to be the first Gambian female photographer to work with FIFA as media personnel, where she dreams to leave a massive legacy.
"My desire is to go further in sports photography. It is one aspect of photography that fuels me and makes me so happy. I wish to be the first female photographer in the country to work with FIFA as media personnel and leave a lasting legacy to be modelled by others," the ambitious young woman told The Fatu Network.
At the age of 21, Sarjo has multiple admirers and those looking up to her. Different people from different backgrounds contact her to train them in photography. With her passion to help others succeed, Sarjo gathered these ready-to-learn young people and formed a social media page called Team Baldezz, where they will be exhibiting their skills in photography.
"This team is ready to do what it takes to make a difference with what they have. They are a combination of members with a burning passion for photography, videography, graphic design and script writing," she explained.
Sarjo doesn't only do photography, but she is as well a student studying construction at the Gambia Technical Training Institute (GTTI).
Now being approved to cover the 2023 Africa U20 Cup of Nations in Egypt as a photographer, Sarjo is ready to make a name for herself and capture moments that will last longer. She told The Fatu Network what travelling to Egypt means to her as a photographer.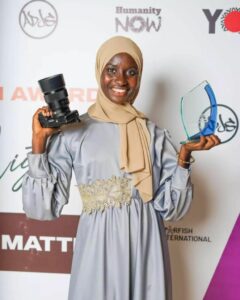 "To me, it is hard work pays off. It has been my dream to represent my country and take stunning pictures. Pictures that will forever be remembered, capture moments at AFCON.
"It is a moment for me to experience as a female photographer, to network with other photographers and learn from others.
"It is also an experience to travel. I wish I get the sponsors to go to AFCON".