Former Secretary General and Minister of Presidential Affairs Momodou Sabally has further emphasised his criticism of plans to transform The Gambia Technical Training Institute, GTTI, into a university of Science and Technology as recently announced by government.
Speaking to graduating students and the audience including the National Assembly Member for the area, the Chief and other local authorities,  assembled at Somita Senior Secondary School on Sunday July 21, 2019, Sabally harped on the need for government to get its priorities right; and to focus on improving the quality of basic and secondary education rather than dispersing scarce resources on the creation of a new university while our only University, UTG remains underfunded and ill-equipped. His remarks dovetailed into the school principal's report which highlighted that the school's laboratories have not been equipped yet.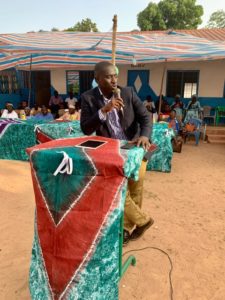 Sabally further advised the graduates to proceed to tertiary institutions and to get further training, and implored them to"Seek the means to improve your talents and skills on a continuous basis, and develop the habit of life-long learning. Education is your golden key to the gates of bliss and fortune in this Information Age that is gradually cementing the blocks of the knowledge economy that the world is running on."
In a graduation speech a few days earlier at Jiboroh Upper Basic School, Sabally addressed students on the topic of discipline and asserted that in order for our societies to effectively combat the problem of indiscipline, "government needs to lead the process of reviving our cultural institutions like circumcision rites so that we can rebuild what we lost in terms of our sacred, sanctifying and edifying cultural practices."
"Whatever I have achieved in life today, by the grace of Allah, could not have been attained without the disciplinary regime I went through with my teachers during the early period of my education. But all this disciplinary regime at school was based on the foundation of our cultural institutions of discipline – rites of passage: Circumcision and it's myriad processes of instilling discipline.
"Alas, we have thrown away these cultural institutions in pursuit of our so called modern civilisation and now look at where we stand!
As young people I implore you to obey your school rules, respect your teachers and remain focused on your education. Life is not easy, has never been easy. Therefore discipline is your insurance against the inevitable turbulences you have to go through to make it in life."
In other commencement speeches he delivered during the past two weeks, Sabally spoke to graduates of New Covenant School on the importance of formal education on July 19, in Faji Kunda and also dwelled on the importance of the education of the girl child when he addressed the community of Kerr Auldi in the Central River Region on July 13, 2019.
";n.innerHTML="window._taboola = window._taboola || [];_taboola.push({mode:'thumbnails-a', container:'taboola-below-article', placement:'below-article', target_type: 'mix'});";insertAfter(t,e);insertAfter(n,t)}injectWidgetByMarker('tbmarker');