By: Hadram Hydara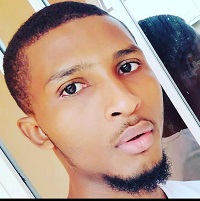 Gambian rap superstar Kombonka has been chosen as a brand ambassador for Youlty, an international luxury clothing brand in Europe owned by Gambian fashion designer Ismaila Jallow.
Jallow, as the owner of Youlty, has dressed different international stars and attended many fashion shows across Europe. Recently, he designed a significant and deeply symbolic outfit for Kombonka, which he wore during a performance at his Silakang album launch. These two artists, who both experienced the 'Backway' journey (irregular migration to Europe) and shared similar experiences, have collaborated to weave their stories into one in Kombonka's outfit.
Jallow succeeded in getting to Europe through the 'backway' and established himself as a renowned designer however, Kombonka instead, returned home and now has the Gambia rap scene in a chokehold.
For Jallow, Kombonka's album launch outfit, which he designed, is beyond fashion; it's an embodiment of the journey they both embarked on. The collaboration holds a powerful message that transcends music and fashion.
Ismaila, in expressing gratitude for the opportunity to work with Kommbonka and create something that represents their shared experiences, said: "This is a powerful and meaningful collaboration that reminds us of our journey and how far we've come. It's a representation of hope, resilience, and success."
For his part, Kombonka noted the significance of the outfit, saying "wearing this outfit meant more than just putting on clothes. It's a way for me to connect with Ismaila and the 'Backway' journey that we both share. It's an honour to wear his creation brand Youlty and to represent our stories."
From fashion to music, the collaboration between two gifted Gambian artists is a testament to the power of creativity and the impact of shared experiences. Through fashion and music, they are creating a powerful message of hope, perseverance, and success that will inspire generations to come.