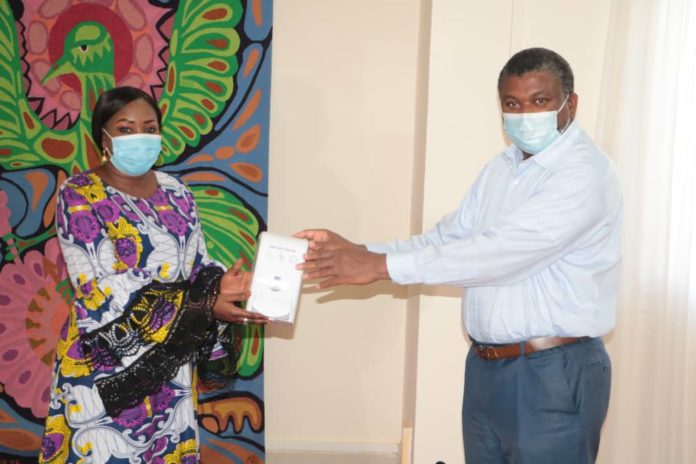 The Minister of Health on Friday afternoon lauded the 'great' role of the First Family in the country's fight against the COVID-19 pandemic, according to State House.
State in a press release on Saturday said Dr Ahmadou Samateh made this remark at the State House as he took delivery of laboratory and sanitary equipment from First Lady Sarjo Mballow-Barrow.
He said the leadership shown by the family in these challenging moments for the population was strategic in mobilising funds, equipment, medical and food supplies for needy families since the country registered its first COVID 19 case in March this year, according to the press release.
The release continued: "He therefore thanked First Lady Sarjo Mballow-Barrow for her personal efforts in this cause.
"She was handing over materials donated through her to the health sector. These according to the Health Minister were timely as national efforts intensify to bring both infection and mortality figures to a minimum."
Dr Samateh said, according to State House: "There should be no room for complacency. All safety measures should continue. Etiquettes on personal hygiene must continue. Hence the donated equipment will enhance those measures to help reduce the spread of the virus."
Speaking on behalf of First Lady Sarjo Mballow-Barrow, Deputy Youth Adviser to the President, Mr Saihou Mballow thanked Mr Hagi Karaga for his contribution to the government's efforts in the fight against COVID-19, the release said.
"Government continues to fight this invincible global enemy called COVID-19. We are fighting very hard and with the help of private citizens like Mr Karaga, we shall triumph over it," Mballow said, according to State House's release.
The equipment will be taken to the Central Medical Stores and an inventory kept, before an assessment will determine which heath facilities will benefit from them.