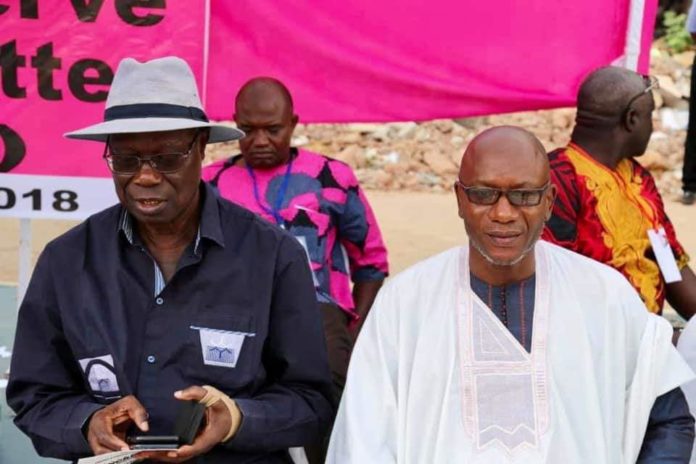 By Mammy Saidykhan
A former leader of the People's Progessive Party Omar Jallow on Monday said he will never allow anybody to destroy the legacy of PPP.
Mr Jallow made this statement at a press conference held at PPP's political bureau in Latrikunda German. It comes as the party continues to be bedabbled by crisis which is as a result of a congress held last month.
According to OJ, the congress was the 'best organised congress, transparent, open and credible congress in the country.'
OJ went on to say it's unfortunate that few days ago, "we saw on TV a group of people who made serious accusations against the process that was carried out in the recently held PPP congress."
"It was shameful that I observed that people have dignity and respect not only for themselves but for the party and the decision of majority of Gambians at that congress, to come and give malicious information to the public," he said.
"We took [it] upon ourselves after consolidations with the leadership to come and respond to those malicious accusations to prove to the world that it was all lies. Unfortunately, I saw on TV Bakary Bunja Darboe claiming that there were so many irregularities at the congress. When were we not consulted, if they want transparency and accountability…"
Speaking further, OJ said he has 'high' respect for Mr Darboe "but the truth has to be said."
"If Bakary can come to [The] Gambia and meet us [at an] advance[d] [stage] in the organization of the congress, he requested to be part of the congress, for him to question the credibility of the congress, shows that Bakary Darboe is not credible," he said.
OJ also said Mr Darboe and his supporters owe an apology to Gambians and PPP.
"They should come and apologize to The Gambia as a nation and the PPP as a party that made them to be known," he said
Meanwhile the leader of PPP, Papa Njie, speaking in respect of the crisis has said that what happened in the past should be used "to build the present and the future."
"Papa Njie represent the future, the young women and men," Njie said.