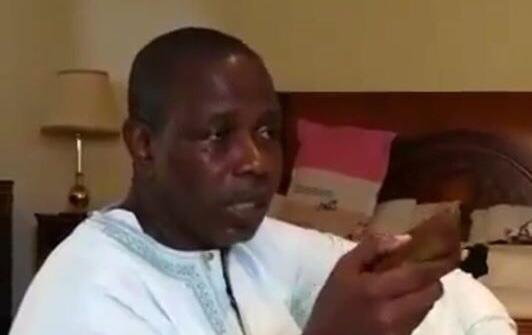 By Lamin Njie
Members of the public online have reacted after former commander of Republican National Guards Saul Badjie is seen in a video seeking forgiveness.
In the video, Mr Badjie is seen performing ablution, praying and swearing on the Qur'an he had never done anything evil to former President Yahya Jammeh – as he also rubbished claims he was taking money from the Central Bank.
The former lieutenant general wearing a white robe is also seen in the video seeking forgiveness.
Mr Badjie throughout the 12-minute video spoke in Mandinka.
The Fatu Network could not independently verify when and where the video was taken but it appears it was shot during Ramadan.
Gambians have been reacting to the video since it was posted to Facebook on Wednesday.
Simon Sabally said in a post on Facebook: "The short video of Saul Bargie performing ablution, praying and oathing his innocence in his single room accomodation projects a single purpose.
"It was to prove his loyalty to Jammeh from 1994 to date! It was to show that at no point in time, he had back-stabbed the ruthless dictator who still holds his lifeline."
Omar Njie commented: "Before we can forgive you, you first you have to come to the TRRC and tell the whole truth and nothing but the truth."
Abdourahman Karamo Kanteh said: "Then come and testify to TRRC."