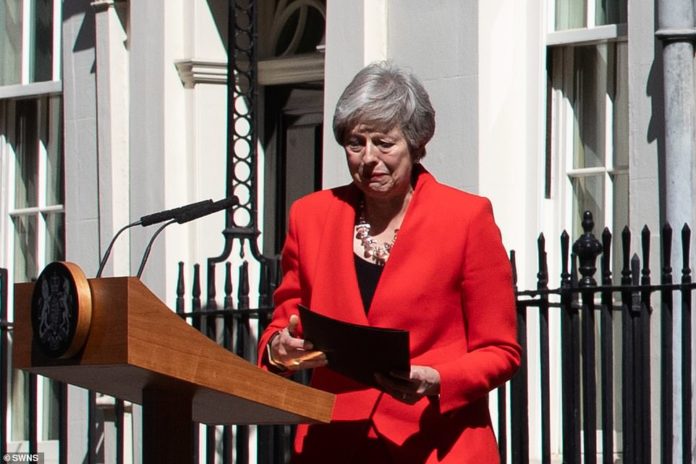 Theresa May broke down in tears today as she read the last rites on her troubled premiership after bowing to a massive Tory mutiny over her Brexit plans.
Watched by husband Philip, the Prime Minister was overcome by emotion on the steps of Downing Street as she admitted her desperate struggle to get the UK out of the EU will end in failure.
'I've done my best,' she said. 'I have done everything I can to convince MPs to back that deal … sadly I have not been able to do so.
'It is and will always remain a matter of deep regret to me that I have not been able to deliver Brexit.'
Mrs May was almost unable to continue as she was overtaken by tears while voicing her pride at having served the country. She declared she will resign as Conservative leader on June 7, triggering a contest that should be complete by the end of July.
Mrs May said it had been the 'honour of my life' to be PM, and she hoped she would not be the last woman to lead the country. In a parting shot at the bitter Brexit divisions that have blighted her time in office, she urged MPs from all parties to remember that 'compromise is not a dirty word'.
Having delivered her painful message, she then hurried back through the famous black No10 doors and was immediately whisked away via the back exit.
The dramatic move comes after Mrs May's last-ditch effort to get her EU deal through the Commons backfired spectacularly. Tories were up in arms and the Cabinet mounted an open revolt after she offered MPs a vote on holding a second referendum and joining a temporary customs union with the EU.
The PM humiliatingly pulled her Withdrawal Agreement Bill – known as WAB – yesterday after seemingly accepting the inevitable.
Sir Graham Brady, the chair of the powerful Tory 1922 committee, met her in No10 this morning. He had been instructed by Tory backbenchers to enforce an exit date if Mrs May refused to volunteer one, with MPs threatening to change party rules to allow a fresh no-confidence vote.
Jeremy Corbyn immediately seized on the news to demand a general election, saying the Conservatives were 'divided and disintegrating'.
But despite the brutal assault on her position from her own side, there was an outpouring of sympathy today after she finally fell on her sword.
Boris Johnson paid tribute to Mrs May's 'stoical service to our country', urging politicians to 'follow her urgings' by 'coming together to deliver Brexit'.
Andrea Leadsom, whose resignation as Commons Leader put the final nail in Mrs May's political coffin, tweeted: 'A very dignified speech by @theresa_may. An illustration of her total commitment to country and duty. She did her utmost, and I wish her all the very best.'
Prominent Tory Brexiteer Steve Baker, who strongly opposed the PM's Brexit deal, tweeted: 'Very dignified statement from Theresa May, beginning to set out the many things which she has achieved in office. This is a sad but necessary day.'
Environment Secretary Michael Gove tweeted: 'A moving speech from a Prime Minister who deserves our respect and gratitude. Thank you @theresa_may.'
David Cameron also weighed in, describing it as a 'strong and brave speech'. (DailyMail)