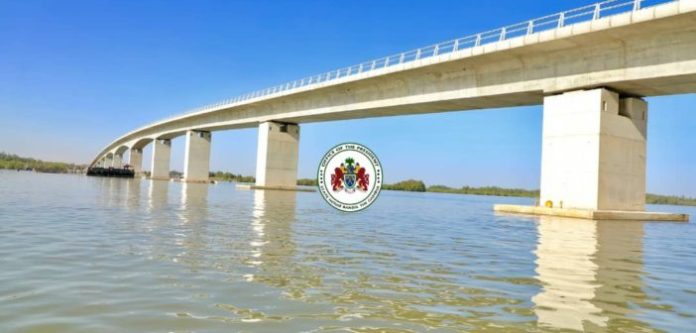 By Lamin Njie
President Adama Barrow on Monday officiated the opening of the Senegambia Bridge following three years of construction.
The landmark structure built across the River Gambia Yelli-Tenda-Bamba Tenda belt was unveiled at a historic event held at Bamba Tenda attended by hundreds of people among them Senegalese President Macky Sall.
In his address, President Barrow describing the structure as 'magnificent' said it will serve as a catalyst for development and integration within the Ecowas sub-region.
"In spite of the delay, this magnificent bridge will henceforth form a major component of the trans-Gambia corridor, a corridor that is essential for development, integration, trade expansion within the Ecowas sub-region," Mr Barrow said.
The Senegambia Bridge is The Gambia's newest landmark measuring 1,893 metres. The structures is made up of two segments – a segment of 943 metres on the water and a segment of 950 metre on the mangrove area. The project also features public lighting and other facilities.
President Barrow said: "For many years, a lot of agricultural produce from both Senegal and The Gambia perish in stranded trucks that waited for their turns to cross the river. This ceremony marks the end of such encounters and it brings to an end the suffering and even deaths caused due to the delays to be ferried across.
"Better still, the issue of maintaining or servicing broken down ferries at this point will now be history. Easy movement of people and faster delivery of goods and services are now guaranteed round the clock. In addition, the social institutions on both banks of the river will serve their purpose better. This is particularly so for our hospitals and health centres especially in cases of emergency. Economically, the bridge will generate revenue and eliminate the related economic loss to governments and travellers due to crossing hurdles."