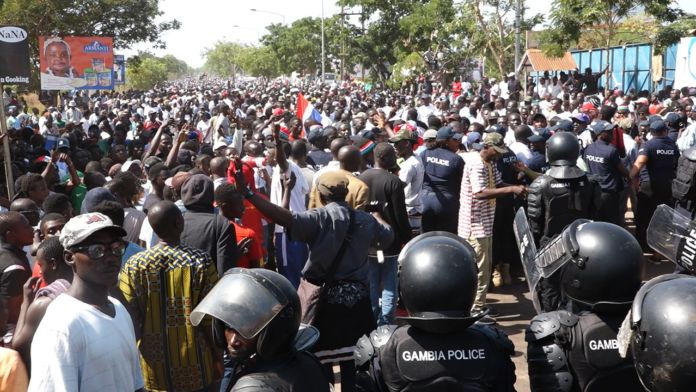 If there is one man in The Gambia who isn't getting enough sleep these days, it's Mamour Jobe.
The police chief has found himself in an extremely difficult position. The man is clearly a victim of experimentation of the so-called New Gambia.
The debate around whether President Barrow should leave office after three years or continue until 2021 has intensified but protests on both sides of the debate have taken things to a whole new level – and the one man one should feel sorry for is the IG.
Let's be clear: at no time in the history of this country has an IG been so busy over permit requests. It's an unusual situation. Yes, it is.
IG had been dealing with requests from different groups but Operation Three Years Jotna and now APRC, have pushed Mr Jobe to the brink of losing his job.
IG had to decide between granting and not granting permit to Operation Three Years Jotna and APRC. Every circumstance needed to be looked at. Every event too.
But the IG's decision to deny both a permit is gambling, pure and simple. The two are now determined to stir the pot by protesting without a permit. What the IG has to worry about now is how he's going to deal with that.
I must say both Operation Three Years Jotna and APRC are pushing things too little too hard by threatening to protest permit-less.
For Operation Three Years Jotna, while I stand with them in respect of their right to freedom of assembly, they could have backed down since their first protest had gone on so successfully. It certainly sent a message. And at no point in the history of this country will a president try to play Gambians.
APRC's is a lot more complex.
But then every situation takes proper management. The IG must now manage the events well. If he doesn't, he will lose his job.
Lamin Njie is the editor-in-chief of The Fatu Network. He is the former editor-in-chief of The Standard newspaper. He also edited The Voice. He has also worked as deputy editor of Paradise TV and a reporter at Today and Freedom newspapers.The views expressed in this article do not necessarily reflect the editorial position of The Fatu Network