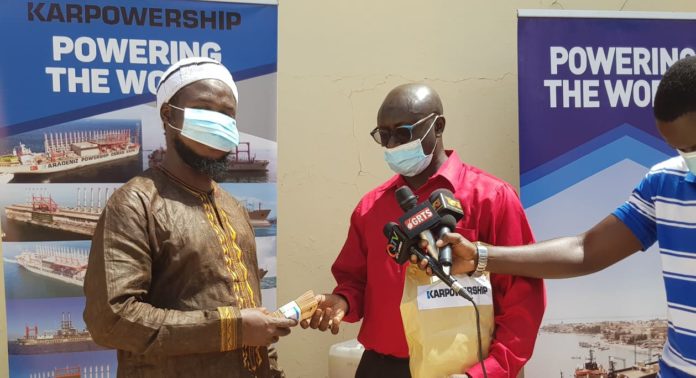 Karpowership on Wednesday gave $5,000 (D250,000) cash to Omar Malick Islamic Centre – and also rice and oil to the same centre worth D75,000.
In a joint ceremony at Karpowership's office in Fajara, the company also gave $1,500 to Gambia Maritime Administration towards the administration's plan of building a walk bridge for Gambians who cross the river on canoes between Banjul and Barra.
The country manager of Karpowership Yankuba Mamburay said the gestures were part of his company's corporate social responsibility.
"We do place corporate social responsibility as a high priority because we believe that we should be giving back to the people," he said.
Karpowership since coming to the country in 2018 has and continues to extend a hand of generosity to Gambian citizens and institutions.
Karpowership has used past Muslim feasts to give food to the needy; the company has also supported fishermen with fishing gear while it has also supported the nation's biggest hospital EFSTH by helping the baby's ward with water. In the education sector, the company helped refurbished the national library branch in Brikama and later donated computers and books to the library. The company also supported the National Environment Agency during clean-up exercises.
Last year, the company donated five ventilators to the health ministry worth more than five million dalasis and has alsod bought 1000s of face masks and gave it to various institutions.
Gambia's electricity fortunes have registered remarkable turnaround since the arrival of Karpowership in May, 2018.
"When we came here, we all knew the situation of electricity in this country; blackout was the order of the day but we were able to stabilize electricity supply in this country since when we came in. For that we are grateful to the government of The Gambia and also our partner NAWEC for giving us the opportunity to serve this country.
"We know that our primary mandate is electricity generation but we have gone beyond that. We have seen to it that we should go over and above just providing our contractual obligation which is electricity generation. We also have some statutory legal obligation which we have been fulfilling satisfactorily including to institutions like Public Utility Regulatory Authority, Gambia Maritime Authority, Gambia Revenue Authority, National Environment Agency and so many other agencies in the country," Yankuba Mamburay said on Wednesday during the presentation of money and food to Omar Malick Islamic Centre and Gambia Maritime Administration.
Top Imam at Omar Malick Islamic Centre Imam Bojang said: "We thank Karpowership for this kind gesture; it will benefit us a lot."
Abbas Saidykhan of Gambia Maritime Administration said: "We have a lot of challenges where people are dropped in the water or their items damaged. So the administration tasked with the mandate of ensuring safe usage of our waters among others deemed it necessary to intervene.
"We thank Karpower[ship] very much for this kind gesture towards improving safety and safe usage of the Gambian waters."
Ousman Muhammed Cham community leader from Sukuta said: "We can only thank them (Karpowership) for this kind gesture and I hope the money will be used in the best manner, to serve the children in the quranic center."