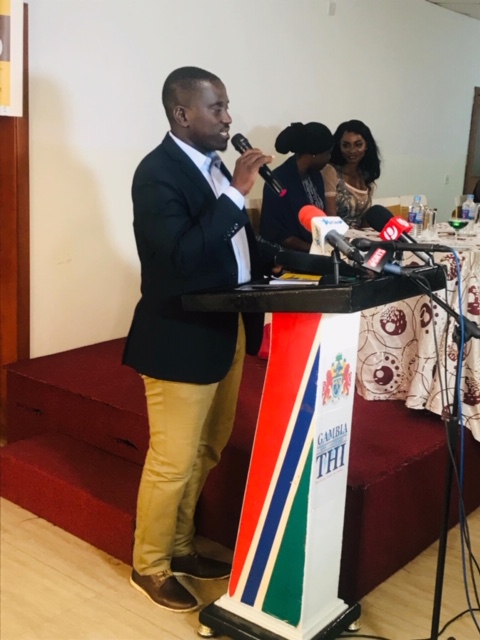 Former S.G and International Speaker Momodou Sabally has reiterated his message to Gambian youths to ensure that peace and stability prevail in the country at all times regardless of the circumstances and challenges at hand.
Sabally made these remarks at several events on Saturday August, 24 2019. The first event was a tree planting exercise organised by the youths of Gunjur, themed Greenup Gunjur. Speaking to the audience of youths he commended the young people of Gunjur for their sense of patriotism and foresight. He implored them to remain determined and focused on their noble objectives of ensuring a healthy environment for both the current and future generations.
Sabally later spoke about the need to ensure the prevalence of peace and tranquility in the country so that  young people could have the conducive environment to hone their talents and contribute effectively towards nation building, as he officially launched a book titled "The Oath (Fulfilled) authored by Aisha Jawara.
Later the same day, Sabally spoke as a panelist at a youth event organized by Eye Africa tv and other stakeholders on the way forward for the promotion of wrestling in The Gambia. He weighed in with a statement urging the Gambian Government to recognize the fact that there is more to sports than football and that resources dedicated to sports development should be directed to other sports as well.
He then seized the opportunity to remind he youths that development of their talents in sports or any other endeavoring can only be done in an atmosphere of peace and security. He therefore urged them to maintain peace and to respect the nation's law enforcement officers as they do their jobs to protect the lives and properties of Gambians. 
Sabally reechoed similar sentiments on peaceful coexistence and national security as he addressed thousands of youths at the APRC Youth Rally held in Latrikunda German. "This country is ours and the maintenance of peace and stability is our collective duty. Let us maintain peace and treat our men and women in uniform with respect. They are our brothers and sisters who decided to join the security services for our safety so let us give them our moral support and teat them with respect" he concluded.