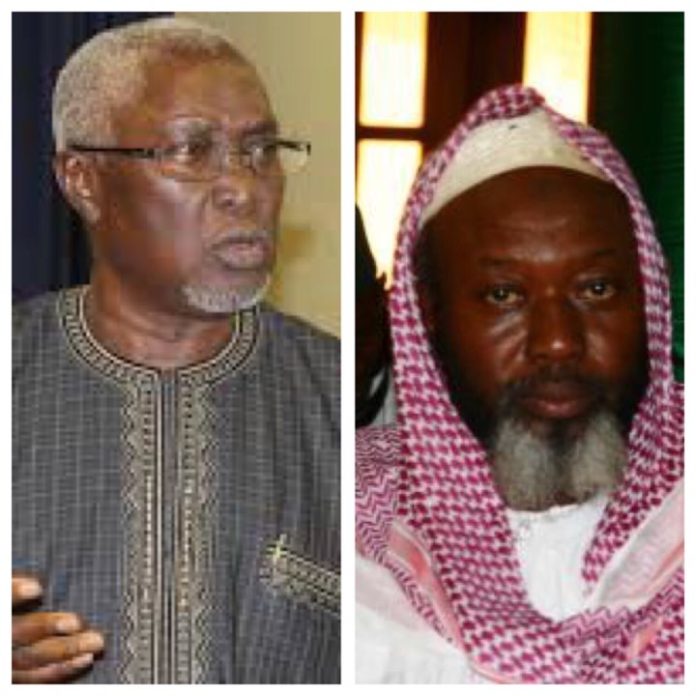 By Alieu Ceesay
Imam Abdoulie Fatty has hit back at Agriculture Minister Omar Jallow, alias OJ.
The Minister of Agriculture, Omar Amadou Jallow recently called on Imam Abdoulie Fatty to apologize to Gambians for not doing enough to stop Yahya Jammeh from committing heinous crimes against Gambians, instead of complaining about Ahmadis owning a television station.
OJ said if Imam Fatty had coordinated, supported and helped Yahya Jammeh over a period of 17 years to perpetuate the terrible things that were happening in the country, he must apologize to Gambians rather than griping about a particular sect getting license to operate a television.
"Coming from the situation in which we found ourselves in the last 22-years and knowing the Islamic fundamentalist problems that some of our neighbors are experiencing, I think this is a wrong time for a person like Imam Fatty to make such remarks," he stated.
He continued: "Imam Fatty was around when Yahya Jammeh arrested Imam Karamo Touray of Brikama, Imam Baba Leigh, Imam Ba Kawsu Fofana, Imam Ismaila Manjang and killed people extra judicially but he never condemned that. Let him not please abuse the new found freedom that we fought for so dearly.
In respond, an unapologetic Imam Fatty said, "I am available to debate with OJ, be it on religion or even his job (as Agriculture Minister). Let him call GRTS and invite me."
"For 30 years, OJ was in charge of Sapu during Former President Jawara's regime. What has he done there? They should invite him to the Janneh Commission and asked him what happened to all those tractors that were at Sapu at that time," he queried while speaking in the local Mandinka dialect.
Imam Fatty went on to remind people about the mass grave yard at the entrance of Banjul during the 1981 Coup when OJ was serving as a Minister in that government. "We know history. People were seen packed in tractors for burials."
To him, OJ should apologize to Gambians for witnessing all the difficulties Gambians went through.
"Imam Sheikh Hatab Bojang was jailed during PPP regime when OJ was a Minister. What did he do at the time?"
According to the former State House Imam, OJ Jallow should not work in this current government as he did nothing for The Gambians during the PPP regime.
"If he wants to be an Ahmadi, let him just declare himself for we have no problems with that." He accused OJ of staining the image of President Barrow by backing the Ahmadis.
He described the Agriculture Minister as an Ahmadi, hence backing the Ahmadis' request for a TV license.
"OJ is not well educated. Since the Ahmadis TV license issue started, President Barrow has not spoken on the issue and OJ should do the same."
Imam Fatty warns that the Organization of Islamic Conference (OIC) can even cancelled the proposed Islamic Conference in the country if they find out that the government is supporting the Ahmadis.
He advised Agriculture Minister Jallow to limit himself on this matter. "In fact it is Dembo By Force [Presidential adviser on religious matters] who should comment on the issue."
"You want to make yourself a lawyer for the Ahmadis, come over, I'm all ready for you." He concluded.