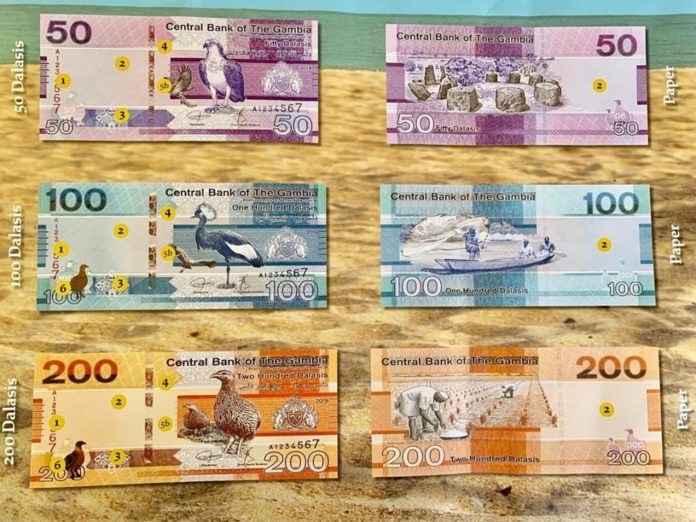 By Lamin Njie
The new dalasi banknotes have started circulating nearly three months after the Central Bank announced it was replacing the features on the country's currency. A principal move has been the removal of former president Yahya Jammeh's portrait on the dalasi currency.
The new banknotes started circulating on Monday August 6 and The Fatu Network has been speaking to Gambians.
Alhassan Ceesay: I don't think it's a good thing because if you look at it, we actually spend a lot of money in order to print out those notes. I think the government should look into other things rather than printing out this money.
Musa Gaye: I think the way the new notes look is good. The old notes have a lot of differences. The D100 bills do not look alike, the D50 bills do not look alike and the money has become worn to the point it smells. So I think this is the best [thing to do].
Fatou Conteh: These new notes is better than the last one because the last one is not very nice and it's all mopped up all the time but this one looks very good and it's quite independent. You see a lot of Gambians in there. It's original.
Bubacarr Keita: I just got the new D100 bills and I think it's important that we have new banknotes. The money we had here symbolised an individual because it bore the face of our former president. So I think it's good we are having new notes.
Amie Jobe: It's pointless to have a portrait of presidents on the currency because a president will not be here forever. So this is a good move.
It was in May this year when the Central Bank of The Gambia announced that the country's currency, the Dalasi, will no longer bear former president Yahya Jammeh's portrait. The apex bank said at the time the dalasi currency will now bear features that are 'representative' of The Gambia. The features include various bird species in the country and historical sites.
The new banknotes in circulation include the D5, D10, D20, D50, and D100 bills. The D200 is not yet in circulation. The D25 bill has been scrapped.