By: Muhammed Lamin Drammeh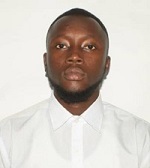 Momodou Jallow, 25, from Berending, who is now an integrated farmer, has transformed himself into an enterprising entrepreneur in agriculture after completing entrepreneurship training in 2019 through the Ministry of Youth & Sports, the same ministry that gave him a-50-thousand grant support to kickstart his business. Jallow, who sold 47 rams and 7 bulls for last month's Eid-al Adha, has made significant strides as an integrated farmer.
The entrepreneur, determined to make it in life from a-50-thousand grant support from the Ministry of Youth & Sports, is into integrated farming. He has a massive 5 hectares of groundnut farmland and an animal farm where he breeds sheep and bulls.
During last month's Muslim feast, Jallow sold seven bulls and 47 rams, reaching a feat that has not only benefited him but gave him more courage to invest more and sell more.
"This whole idea started after attending the first training organized by NEDI in 2019. From 2019 when I registered the business, I began with cassava farming first. Every year, the business grows gradually by at least fifty per cent," 25-year-old Jallow told the Minister of Youth and Sports, Bakary Badjie and his delegation when he was visited on his farm, yesterday, July 10.
Jallow, who owns and rears animals, explained that his goal on the farmland is to work on feeding his small and large ruminant animals to minimize the cost of feeding.
He explained that his goal is to sell rams at a cheaper price, the reason why he wants to spend more time on the farmland to create feeding for his animals.
Jallow, who studied Animal Health and Reproduction at the Gambia College, is not only a determined entrepreneur but someone who understands animal health and reproduction.
On his animal farm, he has sheep and bulls that seem to be in good shape. He said they get regular and healthy feeding.
"I keep records of what I give to my animals, including drugs given to them," he explained.
Before the beginning of the rainy season, Jallow employed 3 people on his farm, playing his role in creating an avenue for the young people to make a living.
The narration of his growth after receiving a grant from NEDI to transforming himself into a determined and enterprising entrepreneur who shunned his chances of sitting in an office to be on the farm left the minister and his delegation convinced that he has not wasted resources spent on him two years ago to start a business.
The minister of Youth and Sports Bakary Badjie, whose vision and policies laid the foundation for Jallow, was left impressed by his achievements after listening to and touring his farmland.
He said Jallow's story is a testament that young people can make it in the country if they are supported. He assured him that the ministry will continue to support him but with the condition to train other young people who are interested in what he does.
"We are impressed with what we saw on the farm. This is something that people can emulate and also shows that farming could be lucrative. What he is doing is precisely what we expect that some young people can take.
"On our part, we will go beyond what we gave you in 2021 but with the condition that you transfer the skills to other young people in the region," Minister Badjie said.
NEDI is one of the satellite institutions under the Ministry of Youth and Sports as its enterprise atm. NEDI is mandated by an act of the National Assembly to nurture, promote as well as facilitate the development of women and youth-led enterprises through training in skill acquisition, entrepreneurship and facilitating market linkages for youth and women entrepreneurs in the Gambia. Since its creation in 2004, the institution continues to respond to its core mandate to train and coach young entrepreneurs and women in the areas of entrepreneurial development and employment creation.
Momodou Jallow of Berending is the founder of the Jallow and Brothers enterprise. He is into integrated farming. He was provided technical support in entrepreneurship training in 2019 by NEDI to enable him to properly establish and manage his farms well.
In 2021, he was given grant support of D50,000 and further provided with linkage to the agricultural projects which were also facilitated by NEDI.