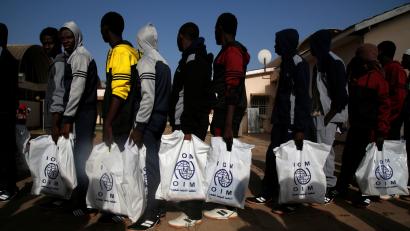 By Lamin Njie
The Gambia Immigration Department has rejected claims that it has been dispatching its officers to countries in Europe to identify Gambians for deportation.
Gambian immigrants in Europe have been gripped by apprehension as the EU continues to work with the Gambia government to send them back.
"We have not deployed any of our personnel to anywhere to be identifying Gambians for deportation. What we can authoritatively tell our viewers is that we have our officers at some embassies in Europe where these officers will help authorities to confirm, I want people to understand the thin line between confirmation and identification," Mamanding S Dibba, the spokesperson of the Gambia Immigration Department exclusively told Gambia Talents last week.
According to Dibba, the department has "seen it time without number that citizens of other countries will claim to be Gambians."
"…Some two or three years ago when this country was not democratically ruled and most people fled this country to look for better lives elsewhere, lot of citizens of other countries have used this opportunity to claim our citizenship. As a result, complaints have been coming to us so much that we seen the necessity to have our liaison officers to help verify such claims made in respect of Gambian citizenship," Dibba said.