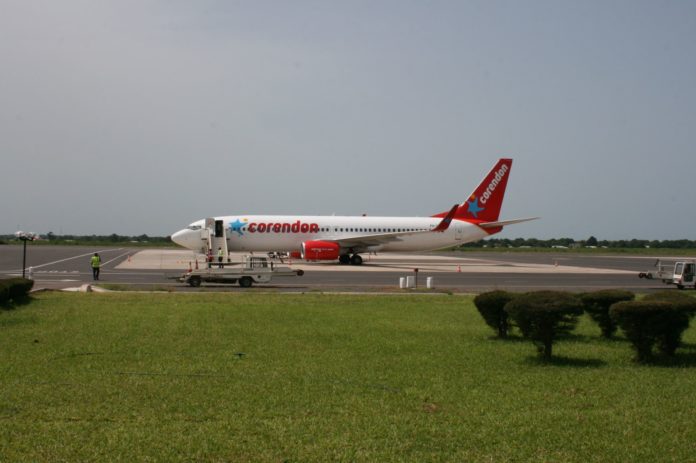 By Yunus S Saliu
In a conducive and relaxation atmosphere, the Gambia Tourism Board under the aegis of Ministry of Tourism and Culture received the first flight marking the opening of the 2017/2018 winter tourist season.
Receiving the first flight after the 2016 political impasse that cut short the last season where many tourists were repatriated to their different countries, the Minister of Tourism and Culture was accompanied by the Director General of the Gambia Tourism Board and other officials from the ministry as well as staff of the GTBoard.
The Corendon Airlines flight which landed at the Banjul International Airport at exactly 1900 hours on Monday with 134 passengers and tourists was the maiden flight for the 2017/18 winter tourist season, it was a direct flight from Holland.
Corendon Airlines joined The Gambia market in 2012 and began inaugural flights from Amsterdam to Destination Gambia in September, one month before the commencement of the 2012/2013 season. Since then, the Airline has been one of the most consistent carriers to the destination.
Shortly after the arrival, Hamat Bah, Minister of Tourism and Culture went on a conducted tour of the airline and saluted the captain of the airbus and his crew for a job well done. Speaking to pressmen at the Banjul International Airport, Abdoullahi Hydara, Director General of GTBoard applauded the management of the Airline and its representative in The Gambia for having confidence to visit the country again after the political impasse of 2016.
He assured that the 2017/2018 winter season in the destination would be a good one without interference compared to the past year. Liane Sallah-Burgers, Corendon Airlines representative in The Gambia, expressed delight over the arrival of the maiden flight. She said hopefully this will be a good season in particular that they are receiving more booking on daily basis which shows that the sales is going very well.
She added that the packaged holidays are going extremely well this season. For a start this season, she added that Corendon will be doing three flights per week and may do four flights per week when the season reaches its peak.