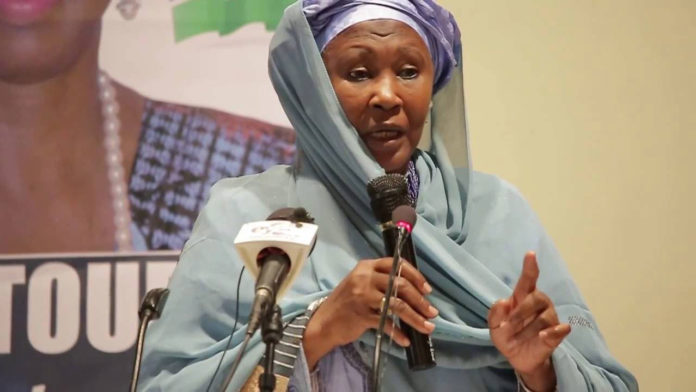 By Lamin Njie
The co-chair of Coalition 2016 Fatoumatta Jallow Tambajang has vowed to 'clear her integrity' over millions of dalasis remitted by the Gambian diaspora during the coalition's 2016 campaign activities.
In 2016, Gambians in the diaspora made contributions totaling 4.2 million dalasis to support the coalition in its campaign activities under the Gambia Democracy Fund. The greatest chunk of the sum was dispatched through Mrs Fatoumatta Jallow Tambajang.
And speaking to The Fatu Network on Tuesday, Mrs Jallow Tambajang said that the chairman of the finance committee of the coalition Alhagie S Darboe has still not turned over the accounts for auditing despite her efforts.
She said: "Every dime that came from the diaspora, I have them in my personal records here came through my name. I received the money and I signed for the monies and I delivered the monies to the finance committee which was chaired by Alhagie S Darboe who is the administrative secretary of the United Democratic Party.
"The other member is Idrissa Jallow of PDOIS. And we also had another member Kebba Singhateh who is now working with the embassy in Russia. Everything that was given to me, I gave it to them. And I monitored, supervised the management of those resources. But the direct responsibility was Alhagie S Darboe.
"Since 2016, I have reminded Alhagie S Darboe, I have been behind him to produce the accounts so that they can be audited but I'm yet to be able to obtain them from him. I have reported the matter to His Excellency the President Adama Barrow. I have reported the matter to His Excellency the Vice President Ousainou Darboe. I have reported the matter to Honourable James Gomez who is the Minister of Water Resources.
"I have explored all avenues to do that and now what I am left with to clear my conscience and to clear my integrity is to write to him formally, and through the formal channel through his party and through the executive to ask him to submit the accounts so that they can be audited and they can be disseminated."