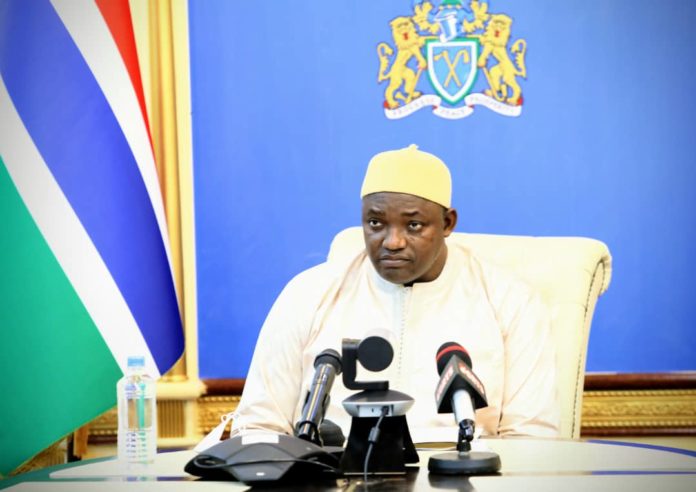 President Adama Barrow has told the UN high-level virtual meeting on 'Financing for Development on Covid-19' that Gambia's economy s among many others that are shutting down due to Covid 19 pandemic, according to State House.
The impact of the pandemic has necessitated the world body to convene this high level event, to discuss strategies towards recovery of economies and financing development in the context of the Sustainable Development Goals, State House said.
"Our economies have been virtually shut down for the past several months as economic growth has become seriously compromised for the foreseeable future," President Barrow told the meeting, according to State House.
The presidency's statement added: "The Canadian and Jamaican Prime Ministers have joined the UN Secretary General in convening the meeting. The world leaders through this meeting have formed a consensus that Covid-19 is more than a global health challenge.
"Rather, they consider it "a serious economic and social challenge" for the global economy, with devastating effects on most vulnerable countries such as The Gambia.
"President Barrow told his colleague leaders that it has become more urgent for them to accelerate the implementation of the Addis Ababa Action Agenda on Financing for Development in the Era of Covid-19 and beyond.
"The Chairman of the African Union, President Ramaphosa of South Africa called for total debt cancellation for African countries. He further called on world leaders to honour their commitments to the Addis Ababa Plan of Action.
"A global response package of up to $200 billion is targeted to finance this re-emergence plan. Mr. Ramaphosa expressed his commitment to lead the raising of this funds.
"President Buhari of Nigeria and Kenyatta of Kenya were among those who gave strong support to debt cancellation for African countries.
"The World Bank has called for extension of debt servicing, warning that creditors must not exploit the vulnerabilities of debtor countries during these times.
"The IMF supported the G20's debt scheme that puts moratorium on servicing debts by developing countries in order to support them build more robust and resilient economies.
"The Secretary General of the UN, Antonio Guterres said it was clear that many developing countries lacked the financial means to recover from the impact of Covid 19 pandemic. Their economies' financial inflows, tourism, remittances, aviation services have hugely suffered that they need global partnership to emerge from this crisis."