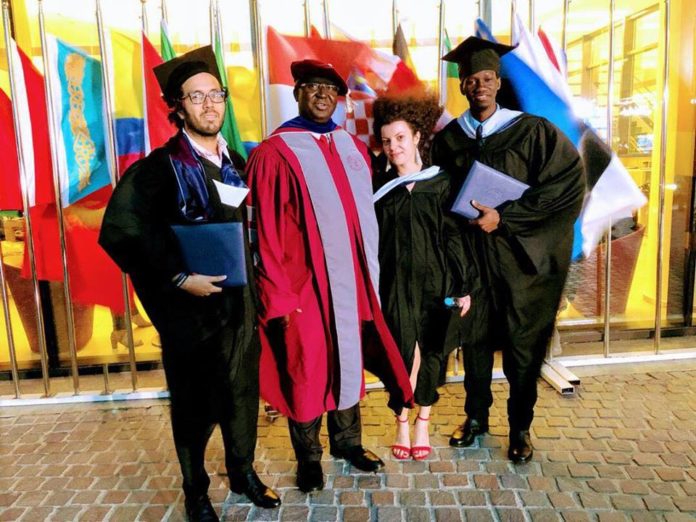 By Alhassan Darboe,Gunjur Newsonline
Professor Muhammadou Kah, formerly of The Gambia university and now Vice President of Academic Affairs at American university of Nigeria has been honored by Ada University in Azerbaijan.
Professor Kah bagged a prestigious job as Founding Dean and Vice Rector for Technology and Innovation at Ada University in Azerbaijan shortly after the expiration of his tenure as VC of the University of the Gambia.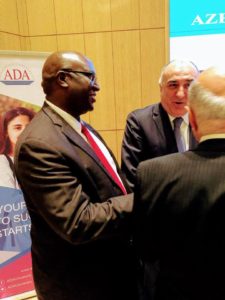 Speaking to GunjurNewsonline from his base in Nigeria, Professor Kah disclosed his sense of humility and gratitude for the reception and honor his former employers bestowed upon him despite his departure from  the university to serve in his current position as vice president of Academic Affairs at American University of Nigeria, a top University in Nigeria and Africa.
His words: "I just got back to Nigeria from Baku, Azerbaijan. It was quite humbling and an honour for me to be the guest of honour and processed with faculty colleagues. I was given the honour to stand on stage as Founding Dean and Vice Rector for Technology and Innovation and Graduate the Inaugural Class of the School of IT and Engineering I helped establish."
Touched is what he was by the fact that the announcement and unveiling of his successor was delayed until he got on stage as a mark of respect and appreciation for his successful tenure there as rector before heading to serve AUN.
"They delayed the announcement of the appointment of the substantive Dean until this moment. The Substantive Dean's appointment was formally announced when I came on stage to hand in Diplomas and after their very kind words about my tenure there. He joined me on stage as well. Quite humbling, thoughtful and kind. The President of Azerbaijan and the 1st family attended as well, "added the distinguished professor.
Based in Nigeria, Professor Kah serves on the Board of The African University of Science and Technology (AUST) in Abuja;an African center of excellence for postgraduate education in STEM
Kah has been a well-spring of motivation and mentorship to many young Gambian students some of whom followed him in his academic odyssey from UTG to Azerbaijan.
And succeed they did in their quest for education with many acquiring their graduate degrees in Azerbaijan.
The first Gambian graduate was Ndey Haddy Jeng who bagged a master's Degree in Diplomacy and International Affairs.
Upon graduation, she returned home to serve in Foreign Affairs and later at the quondam President's Office where she rose to Deputy Chief Of Protocol. Last year, Jainaba Fye and Omar Jallow graduated with master's degrees.
Jainaba Fye, another Gambian, graduated with a master's Degree in Diplomacy and International Affairs and returned home and is a senior staff with the British High Commission in The Gambia.
Omar Jallow also graduated with a Master's in Public Policy after which he returned home to work at MDI.
Lamin Jawara, the most recent Gambian graduate in Azerbaijan postulated:
"The second layer of years of studentship has finally come to an end with the sense of fulfillment. It has indeed been a prodigious and intriguing journey. I wish to express my profound gratitude to everyone who has contributed in one way or another to this accomplishment. My heartfelt gratitude to Prof.Muhammadou Kah and Dr. Jainaba Kah for their unflinching support during the course. I count myself lucky to be under the guardianship of such a benevolent, charismatic, industrious, above all caring couple. It was indeed a singular honor and privilege to share those memorable moments with them. Their humble advice, motivation, and concern will always resonate in my mind".
Kebba Jammeh a UTG alumnus and currently a consultant in the office of Chief Economist at world bank in Washington DC had this to say about the role professor Kah plays in the success and lives of many young Gambians. "There are many kind words that can be said about Prof. Muhammadou Kah; especially in mentoring young people. I for one, without his support, it would've been hard for me to leave UTG for my master's degree in Italy when I received the scholarship from Collegio Carlo Alberto".