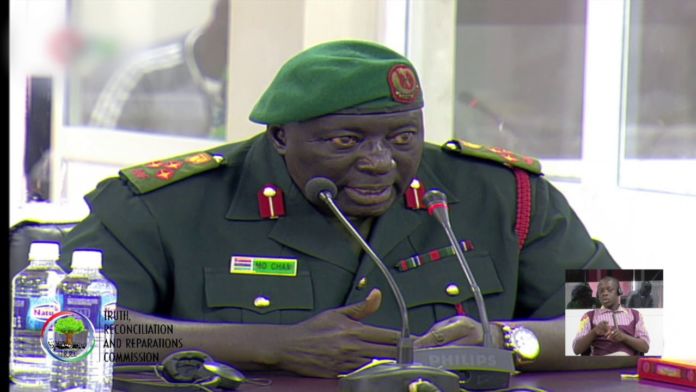 By Lamin Njie
The commander of the Gambia Armed Forces said Thursday any group that tries to 'subvert' the peace and stability of the country will come across his army, in a veiled threat directed at Operation Three Years Jotna.
Hundreds of Gambians are expected to take to the streets in December to demand that President Adama Barrow step down from power, a campaign spearheaded by pressure group Operation Three Years Jotna.
The Gambian army has largely stayed away from the issue but on Thursday its commander spoke saying the army was ready to crush any protest that is 'not in line with the constitution.'
"I want to state here that the Gambia Armed Forces will not recognize anything that is not in line with the constitution. So any group, any political association that tries to subvert the peace and stability and the due process of achieving of any political power if you try that you will come across the Gambia Armed Forces," General Mamat O Cham said on state television, GRTS.
The three years coalition deal that shot President Barrow to power will expire in December but the president has said he will not leave power. Operation Three Years Jotna says it wants to hold him accountable.
But according to the army's commander, nobody has 'a right to conspire with another illegally remove a legally constituted government.'
"So from that perspective, anybody who associates with anybody through whatever means, either in person or using electronic means canvass for anybody to partake in any action which is calculated to subvert the constitutionally elected government is involved in what is called a treasonable action and you could be prosecuted and locked," Cham said.